Jane By Design Review: The Love Quadrangle

Carla Day at .
"The End of the Line" originally appeared to be the season finale of Jane By Design. Fortunately, last week, ABC Family ordered an additional eight episodes to air this summer. Phew!
With that cliffhanger on the runway, I'm glad we don't have to wait to find out whether we would get closure or not as Jane's love quadrangle came to a head in this mid-season finale.
Before Jane started at Donovan Decker, she was an awkward high school student with a crush on the school jock. Through her job, she gained the confidence to date him and then the diplomacy to break up with him.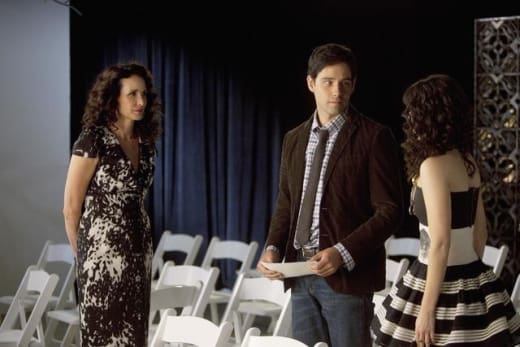 Sure, Jane was disappointed that things didn't work out with Nick, but she held her head high and politely dismissed him. We never would have seen that from pre-Donovan Decker Jane.
Her personal growth has equaled if not exceeded her professional growth; it's quite impressive for a teenager. I'm in awe of what Jane has been able to accomplish.
Her dealings with Ben ... didn't go quite as well. She has changed, but he still saw Jane as his little sister. He wanted to protect her and didn't want her to grow up too quickly.
With their father's death, Ben chose to come back home to be there for her. Jane's job was a stab in his heart that he couldn't provide for her.
As much fun as it has been to watch Jane navigate her romantic life, the relationship with her brother is precious. He hasn't always known what to do with her, has grounded her unsuccessfully, and disapproved of her job, but he always had her best interest in mind.
Ben and Jane's heart-to-heart after the runway show was one of the most touching moments. For Ben to acknowledge that he gave up his dreams for her to achieve hers was so honest. Jane is lucky to have him in her corner.
This was a night Jane will not easily forget. As a teenager, she worked on a Fashion Week runway show, she and her brother connected, and then there was Billy and Jeremy. Who will Jane pick? Her best friend, Billy? Or, her fashion partner, Jeremy? Or, neither?
I actually hope she picks neither right away. Jeremy really is too old for her. They professionally inspire each other, but that is not enough for a relationship. I'd love for Jane to work more closely with him and see what happens. Though, when she finds out he was the mole, and she will, Jane is not going to forgive him easily.
Jane and Billy have such an amazing friendship that I'd hate for them to mess it up at such an early age. They have years ahead of them to become romantic. How would Billy handle rejection?
I'm guessing not well at all. Either way, their friendship will be a risk.
When the show returns this summer, who do you want Jane to be dating? Billy? Jeremy? Back with Nick? Sound off on all things Jane By Design in the comments!
Carla Day is a staff writer for TV Fanatic. Follow her on Twitter and on Google+.