After a promising episode last week, SVU's "Child's Welfare" was a disappointing waste of an interesting opportunity.
When Simon first appeared in Season 8, he caused all sorts of problems for Benson. It's been five years with no communication, which should have made for a good show. Instead we were treated to uneven episode that had two competing narratives. The back and forth between the case of the abandoned child and Benson's brother was ineffectively presented.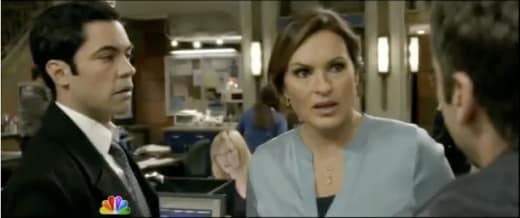 Most of the time the shift from one plot to the other was rather distracting. It was difficult to get really invested in one storyline because of there wasn't enough time to develop either one. The abandoned child/abducted girl story was both intriguing and disturbing. The creepy abductor's insistence that there are "no boys allowed in the house" was an unsettling statement, and I really wanted to know the backstory for this strange rule. 
Simon's return only showed us how little he has changed despite his new baby and fiancee. Simon and his troubles were a distraction for Benson, keeping her from doing her job for most of the episode. From the moment the call came in about the abandoned baby, Benson chose to put her estranged brother ahead of her police duties. Throughout the investigation, she absentmindedly questioned people while constantly checking her phone.
It was rather annoying behavior from a veteran detective. However, it was also completely understandable. We all know that Benson's big weakness is family. She had a horrible childhood with a mother who made her feel unloved and unwanted. When Simon first appeared, she quickly latched on to the idea of having a family, despite the fact that he was suspected rapist. Simon was eventually proven innocent, but his immature and rash behavior (as well as Benson's unprofessional conduct) nearly ended her career.
Benson should have learned her lesson and kept some professional distance between them this time. Instead, she immediately called in favors from David and Bayard. Luckily, this family reunion didn't affect her new relationship. Bayard seemed a good fit to help out because the case did have some racial overtones. However, Simon didn't really make himself an easy client for Bayard, and it must have been a little embarrassing for Benson.
Simon seems to know that using the family angle is the best way to get to his sister. I felt like he was really manipulating her when he introduced Benson to her niece (conveniently named Olivia) and said they should have weekly family dinners. Maybe Simon really wanted to change, but that hasn't stopped him from making horrible decisions. Convinced he won't get his kids back right away, he did the worst possible thing and kidnaps them. He's a serious liability, which is something his fiancee realized.
It seems like Benson is figuring it out, too. She tells her brother to grow up, but still she's sympathetic when he understands just how much his reckless actions have cost him. Simon wanted to change and Benson wanted to believe he could change. Where does that leave their relationship? Do we even want to see him again?
Sadly, there was no David Haden this week. It would have been nice to see Benson get some distance from this family drama by going to a more stable source of support. Perhaps we'll see their relationship progress in the next episode.