There's really only one question left: did the Luck finale pass one of the hardest tests that TV can dole out, the season-turned-series finale? In my opinion, it aced it with flying racing colors.
Where Luck Didn't Deliver
Failure is too strong a word for such a well-earned ending. Over the course of its run, Luck wasn't always the easiest show to watch. It was continuously beautiful, even when it was dark, grimy and whiskey-soaked; and it was always poignant. But its pace was slow, the dialogue muffled and its intentions murky. Still, I never doubted its direction; there were always firm hands on the reins.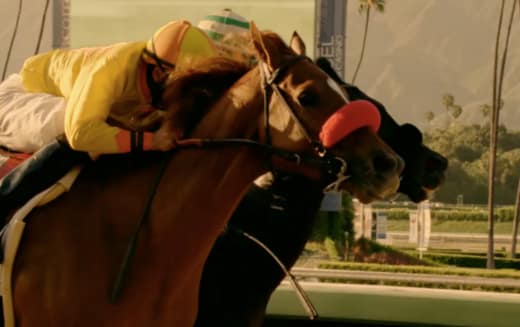 But it felt like those hands never gave the show enough slack and let it run, like they were planning on a much longer race and waiting for just the right moment to let loose. This is certainly forgivable since David Milch and Michael Mann clearly intended the show to continue, but also regrettable. It's possible that we never got to see Luck at its best, and I can only imagine what that might have been like. Nonetheless, the show had an incredible run and, while it's too early to determine its televisual impact, I suspect the ripples will slowly reverberate across the medium, particularly affecting TV's largely episodic structure.
The main plot that I thought Luck didn't really provide closure on was Walter's dispute with Beaumont and the Colonel's children over Gettin' Up Morning. Of course, this was too big an issue to settle in the time allowed by the season finale and was undoubtedly going to be picked up in season two. 
There was also no ending for Ronnie, who struggled to get back into the game, snagged the potentially life-changing ride on Gettin' Up Morning, and then came in second. I expected to see at least some of the aftermath of his loss, but instead the post-race denouement was given to Escalante and Walter (which I loved, but I would still have liked to see how Ronnie was dealing with the defeat).
Where Luck Did Deliver
Expertly walking the fine line between complete closure and loose strings, Luck provided enough answers for the viewer to feel a payoff for their investment, but it also opened enough doors to keep the show moving into the proverbial next season. 
Escalante had a shot at two things this week – the Derby win and a family. He told Pint of Plain before the race that he's ready, but was Escalante ready for the big win or for the baby? In the end, he only got one and it was the one he was really ready for. 
Unable to make weight, Leon plans to leave Santa Anita. He said his goodbye to Joey, who seems to be an ever-present and unchanging presence at the track, but stuck around long enough to watch Rosie race.
Rosie's win on Mon Gateau was, I thought, the most spectacular racing sequence of the season. It was also the most positive, with all the underdogs - the lone female jockey, the pathetic gang of gamblers, the horse with bad legs – winning in one fell swoop. While I would love to see Rosie flourish at the track, I'm happy leaving her here, at the jumping off point in a great career. The same goes for the gang of gamblers. They're at the top of their game with enough money and genuine companionship to be comfortable and possibly even happy. It might be true, as Marcus predicted, that they'll all go broke in the long run, but we'll never know. 
For more quotes from the finale, visit the Luck quotes page.
Walter, however, struck out. Gettin' Up came in second in the only photo finish of the series (it just had to be a photo finish!). To me, their partnership was always the most touching out of all the owners and horses. Walter fought to get to where he is, and he invested everything he had, particularly emotionally, in the colt.
But his fight is his ethos, his center; it's an integral part of him and of the show. If he didn't have to keep battling outside forces, what would he become, who would he be? So Walter has to keep fighting and Gettin' Up has to keep running, chasing the win. 
Ace, on the other hand, won this round, not only at the derby with Pint of Plain's victory by a nose, but also in his plans against Mike. Surprisingly, I'm not disappointed that we'll never know Ace's revenge plot in its totality. Luck was never really about his plan or the end result of his feud against Mike, which is supported by the fact that we still know next to nothing about Ace's scheme. It was about the characters and what they did along the way.
This week, that included bringing Ace's grandson Brandon to town. Against the odds, Ace and Brandon embarked on mending their relationship, a touch that definitely added a feeling of resolution to the episode. 
Ace also continued to build his relationship with Claire, which has softened him. His plans are no longer solely based on destruction and revenge. He intends to give the track a charitable bent – giving away a horse to a patron every month and paying for the horse's upkeep as long as the owner visits.
Ace wants to share the (ironically) humanizing effect Pint of Plain has had on him, which we've seen in those quiet moments that Luck is so good at building; the horse bandages blowing in the wind, haloed by the light turning the barn into a spiritual space as Ace lets the full weight of everything that has happened bear down on him. 
This week those striking moments were extended, allowing the viewer to really engage with what was happening and experience a sense of finality. Luck ended where it's heart lay – with the horses. The parting shot was Pint of Plain stretching his neck out, his beautiful head turned profile, large soft eyes on the camera. He has no plots, no intentions, no past, no future. There is only the present moment. Seize it or let it slip away. 
What I'll Miss Most
All the crazy accents and dialogue – Kerry Condon's Irish brogue, John Ortiz's Peruvian tirades, Nick Nolte gargling gravel.
The gorgeous racing sequences, even though they are colored by the tragedies behind the scenes.
A show that makes me feel like I've never seen anything like it before.