What were to be the final two episodes of Luck's first season have now become the final hours of the series. Pre-mature or unforeseen cancellation is a bane of TV, one that is particular cruel to a medium so reliant on seriality. Last week, I mentioned that I thought Luck's story was far from a conclusion, and of course, this was with the knowledge that a second season was already in production. Now the remaining episodes have a heavy and unexpected burden to carry.
Luck has been thrown into the backstretch with a lot of ground to cover.
Fortunately, Ace's plan sees more action this week than in any previous episode. We learn the fate of poor Mr. Israel, who is swimming with the fishes (in many different pieces). I'm not sure whether this forced Ace's hand a bit prematurely, or if he had a contingency plan in place for an event like this, but we finally get a glimpse of his master scheme. The footage of Cohen bribing the Chief seems to be Ace's ace in the hole, or at least the first card he's shown so far.
I suspected that the end game was to frame Mike and the gang for the illegal maneuvering it would take to bring gambling into the track, but I'm expecting a big development next week that might turn this idea on its head.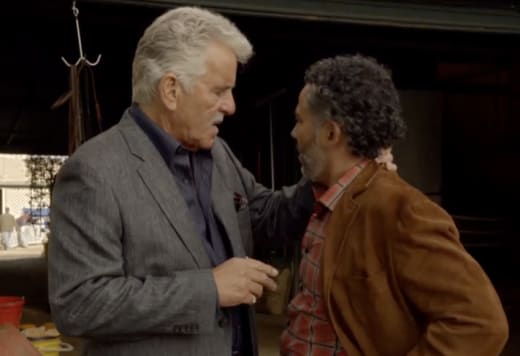 Walter's litigations aren't going as smoothly as Ace's. The stewards did rule in favor of Walter, but Beaumont seems determined to rip Gettin' Up Morning away from the old trainer. Beaumont is another character that's easy, probably too easy, for the audience to hate. At this point in the series, it's too late to show the other side to Walter's story about the Colonel and Gettin' Up's sire, so we're forced to root for Nick Nolte and his phlegmatic fits of rage and frustration, which in my opinion, are worth fighting for.
Nolte's performance throughout Luck has been inspired, particularly the way he flies from feeble to mighty in the span of a sentence or a glance. But it sure sounds like it hurts for him to talk. He should get an inhaler or some of the "special-ist stuff" that Leon was looking for.
Okay, Walter certainly doesn't need any of the "special-ist stuff" that Leon was so desperate for, and neither does Leon. Horseracing, including jockey culture, is, like Ronnie said, the toughest sport played outdoors. This week, Leon was a victim to the challenging weight demands of the sport and was kicked off his mount in favor of the lighter Rosie. While everyone else in Luck has a committed friend or community – Ace and Gus, Foray Stables, Escalante and Jo – the jocks and Joey are left in limbo. They can't really trust each other, but not reaching out and trying to forge connections is just as damning.
As competitors, Rosie and Leon's romantic relationship is turbulent and Ronnie's mean streak runs through everything he does. Even his decision to not give Leon drugs was self-motivated; Ronnie didn't want to ruin his own luck after securing Gettin' Up Morning for the Western Derby, and placing in the money in an earlier race.
Visit the Luck quotes page to see exactly what Ronnie said.
I don't know if you guys had a similar problem while watching this week's episode, but I found that the magic in the racing sequences that I used to delight in is gone; they've been overshadowed by the death of those three horses and the subsequent findings upon inquiry into their deaths. In some ways, I think this is for the better. While Luck certainly didn't romanticize horseracing, the races themselves were sublime and it was easy to be seduced by them and forget the reality of the sport. I struggled with separating my knowledge about the show and my experience watching it, but it was almost impossible. What do you guys think? Should we try to watch Luck as it was intended – untarnished and discrete – or should we let the events external to the story-world inform our viewing?
Finally, I can't conclude this review without at least mentioning Jo and Escalante. The change that comes over the two of them, particularly Escalante, when they're with each other is silent and subtle, but distinct. They say so much with so few words and gestures. Admittedly, I sometimes don't understand exactly what is being conveyed between the two of them, but I think it's more important to perceive their overall message that they care for each other in their own way.
There's a lot at stake going into the finale. We'll finally get to see Gettin' Up Morning and Pint of Plain face off, which could make or break Ronnie's attempt at a comeback. Walter has a death grip on his colt and would do anything to make sure he doesn't fall to the "horse murderers". Rosie has a shot at the big time, and Ace now has a price on his head. Will Luck be able to pull off one of the hardest, but sadly not unusual, tricks of television - the season turned series finale? Or will it just fade away like Ace's reflection in the window at the end of this week's episode?
Stray Observations
The members of Foray Stables didn't do much this week except complain about Escalante and Naomi. With Mon Gateau riding on derby day, I expect we'll see more from them next week.
As if to make up for using Escalante's barn as a detention cell for DiRossie and Gus, Ace reveals that he got Escalante his first job as a groom. I love it when characters catch Escalante off guard and are therefore able to penetrate his emotional walls. The look on Escalante's face as Ace hobbled off to find the car was a poignant mix of admiration and pity.