Mad Men may finally be returning on Sunday, March 25, but the show's panel discussion at PaleyFest last night focused very little on the season ahead.
Due to creator Matthew Weiner's well-known disdain for spoilers, the audience was treated to a screening of the season four finale, "Tomorrowland," as opposed to any upcoming clips, while the only real tease offered up by anyone on stage involved Jon Hamm reminding fans that "Don got engaged, he didn't necessarily get married."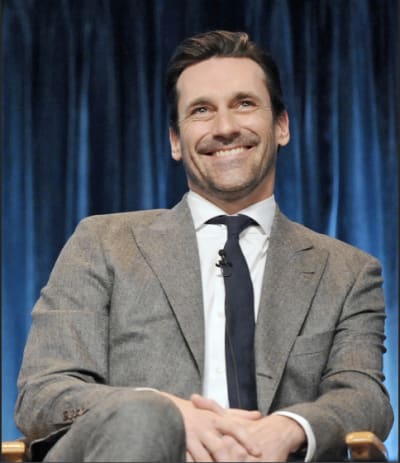 So, what topics were covered?
Hamm praising "The Summer Man" because Don's journal made it "refreshing" for the character "to actually get to say those things and go through those emotions as a character who had really been wrung out."  
Rich Sommer asking fans: "When, exactly, did Harry become such a douchebag?" and saying he believes this character hasn't changed very much: "I think if you took Harry Crane from episodes in season 1 and put him into the situation he's in now. I don't think he would've been any different. He was just under a thumb before. He just has freedom to be who he truly is."
Sommer also responding to attendees applauding an answer by Kiernan Shipka with: "If you guys are going to applaud every time Kiernan says something smart, then you will be applauding all night. She'll definitely say the smartest things out of everyone."
January Jones joking about the public's reaction to Betty: "People run away from me on the street all the time. They're worried about me being a mother now."
Weiner did touch on the Mad Men end game, saying: "The plan is for seven seasons. I don't want to overstay our welcome. But this is the first season we went into knowing there would be more seasons. Trying to think about plotting out three seasons at once makes me sick."
Matt Richenthal is the Editor in Chief of TV Fanatic. Follow him on Twitter and on Google+.