Missing Series Premiere Review: Seeking Her Son
Leigh Raines at .
Fans of Ashley Judd know she's made a great career by running... and jumping... and shooting.... and screaming. Basically, all things action. So Missing makes for an ideal comeback vehicle, following five years away from the acting game.
In the series premiere we are introduced to retired CIA agent Rebecca Winstone. She is an overprotective mother who apprehensively allows her only child, Michael, to enroll in architecture school in Rome.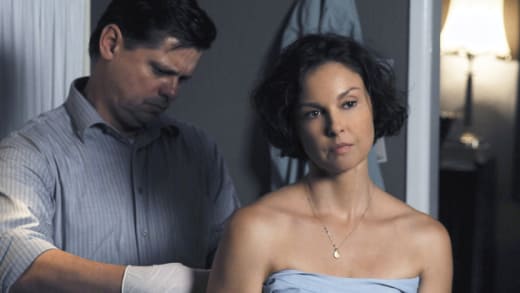 To understand what makes Rebecca tick, the show opened with an incident 10 years prior in which her husband, Paul, was assassinated in front of their child. It's later referenced that she retired from the CIA as a result. Paul and Michael were in Vienna at the time so obviously Becca would be even more afraid to allow Michael to study abroad in Europe.
There's also the fact that she and Paul were both operatives and obviously know the ins and outs and safety statistics. The opening scenes felt somewhat foreboding; we were clearly on the verge of something devastating. Did it seem to you that Paul probably knew he was in danger and purposely left the soccer ball inside so he could send Michael to retrieve it?
I can only imagine how traumatizing it be for one to be on the phone with one's young son as he watches his father's car blow up. Becca may have been distancing herself from a life with the CIA, but can you ever bounce back from such a tragedy?
Even though everyone was aware that the premise of the show is a CIA agent searching for her abducted son, there were a lot of little things that hinted to us that something ominous was ahead. For instance, the code Michael created to say "I love you" to his mother was obviously the type of code he could use to let her know he was in danger without alerting anyone else.
Becca thought Michael didn't know she was in the agency, but it's pretty clear he must've been somewhat clued in. He knew she would look for her and not just in a way that any mother who loves her child would look for her son. 
Becca has some pretty kick ass skills for someone who's been retired from for a decade. This was duly noted by Agent Dax Miller (Cliff Curtis.) He started off as part of the bureaucracy that wanted to bring her in, but I think he will be somewhat of an ally. He clearly knows he's a bit out of his league, considering it took multiple people to bring down one retired agent. But, as he said so perfectly: "The thinner the file, the better the agent."
Giancarlo, meanwhile, wasn't surprised by Becca's skill, but these two have some sort of history that we will hopefully learn more about over time. We rounded out the episode with Becca's discovery of the photos that indicated Michael was not a random target, but rather had been staked out for years. Is he merely a pawn to get to Becca? Is this related to his father's death?
All I know is there's a lot of backstory to uncover and I'm looking forward to understanding just why Becca hates the CIA so much. Missing definitely has me interested and I believe there's a lot of potential here. How about you? Will you tune in for episode two?