It's hard to plan a surprise party, especially if it's for someone as high strung and dramatic as Cam. And this is before considering that Cam is a Leap Day baby. Oh, yes, the pressure was definitely on for Mitchell in "Leap Day."
The episode was like a ball of tension, under a weight of pressure, occurring during the time of the month for three feisty women. Or Satan's trifecta, according to Phil. Since the combined levels of screaming between Claire, Haley and Alex have left me with residual anxiety, I would say that Phil was pretty accurate.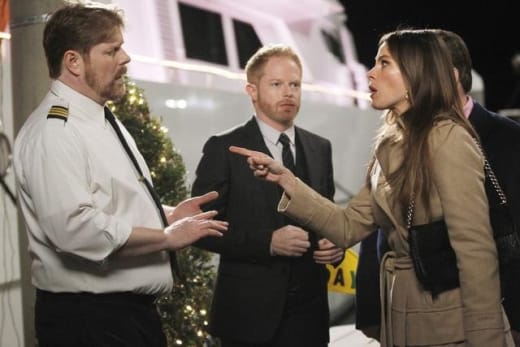 PMS is no laughing matter and neither is the commercial the girls were crying to! Hands down the most realistic part of the episode was hearing the abused animal commercial set to the Sarah McLaughlin song that seems to be on a loop on E!. My eyes almost started welling up when I heard that playing. 
Back to Satan's trifecta: it helps that Phil is a sensitive guy, but he doesn't exactly have the strongest backbone. He is totally terrified of Claire. How solemn did he sound when he said "the day I most dreaded had fallen on the day I most loved." Did anyone else picture him with a British accent speaking the opening monologue of dramatic period piece? No pun intended.
Meanwhile, over at Cam and Mitchell's place, Mitchell was freaking out trying to plan the best 10/40th birthday party for Cam ever. I gotta say, the only thing I love more than a surprise party is a theme party, so Mitchell's idea was my dream. And it was Wizard of Oz!
I know Cam was upset about the tornado in his hometown, but I honestly still think he would have loved it. The movie is about far more than a tornado. It's about a dream, a fantasy - and a million other interpretations - and all Cam wanted to do was be a kid and have a 10-year old birthday party. There's no place like Oz for that. 
Then again, if a life with conflict means watching Gloria punch out a boat captain for calling Jay a grandpa, well... that was pretty darn entertaining. Especially when she shouted "Nobody calls him a grandpa" and a perplexed Luke stated: I do. Leave it to Luke to break up any conflict with an unintentional laugh.
In the end, everyone just needed to have a little fun. Maybe the best way to escape the tension is to escape back to childhood for a little bit. Go on a few rides, learn to trapeze, play a little whack a mole and some good old fashioned carnival games. After all, it doesn't really matter what you do as long as you're with the ones you love. Happy 10th birthday Cam!!!