This week's Project Runway All Star episode served as the appetizer prior to next Thursday's main event. There were 10 minutes remaining in the show when I realized we weren't going to get to see these clothes hit the runway until then. Sigh. That's quite the let down.
Especially given all of the melodrama we had to sit through, but I'll give Project Runway credit. It is making these designers work for that All Stars prize - but can all of them handle it?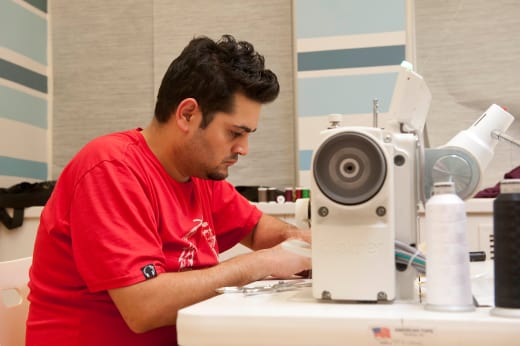 The challenge? Create a line for the red carpet consisting of five looks in just four days. That's less than one day per design. It's a tight schedule for a runway show that needs to be creative and cohesive, yet exciting and different.
Where Michael and Austin dive in and get to work, Mondo flounders. His woe is me act has gotten more tiresome as the season has worn on. He's not the only one under pressure here. 
The funny part is there isn't anything that seems to make Mondo happy. Even when he thinks about winning he gets all teary-eyed because that will mean his friend Michael will lose. Sniff... get over it! He signed up for this. The angsty artist act is really getting old.
On the flip side, Austin did something bold. He shaved his mustache. The oddest thing is that as much as I made fun of his hairy lip, now that it's gone I kind of miss it.
The boys head over the Marie Claire headquarters where something amazing happens: Joanna Coles gives out hugs! Seriously, they even look heartfelt and not the polite but cold hugs I was expecting. Perhaps it's being in her own space but Joanna looks happier and more animated than we've seen her all season.
What advice does she have for our finalists? She's looking for a theme and something really well done. If there are theatrics in the accessories they must be essential to the collection.
From there the guys head out to Central Park to come up with their line and I'm totally jealous. There's no better workplace than Central Park on a gorgeous day. 
Back at the work room Michael and Austin are hard at work but Mondo's brooding. He can't work. He feels dead in side. I'm beginning to think he needs therapy and some medication. Austin may be our resident diva but Mondo's proving to be the queen of melodrama.
Both Georgina and Isaac visit and give advice. Georgina wants a line that excites her while Isaac tells them to have the balls to take a chance and follow their vision.
During the model search Mondo continues to whine that Austin always gets his own way but when they both want the same models it's settled with a coin toss. Mondo wins the first toss. Austin wins the second. Fair and square but Mondo is still unhappy. Austin is upset that he's left with the last pick for the music choice but you snooze you lose. Isaac warned him but he let Michael and Mondo get to it first. 
Michael's collection is a safari theme. He quips that the line is Indiana Jones and the Last Costello. Oye. I can't tell if I like it on the hangars, but it looks cohesive and since no bras can be worn it's obviously Michael's vision.
Austin is going all out glam and I can't wait to see the final product. He's even doing a wedding dress finale. That's so Starlet Scarlett.
Mondo's theme is therapy and it's definitely fitting given his frame of mind. Mondo always seems to struggle but pulls something wonderful off at the end. Will he be able to do it again?
Of course there's one more twist. Isn't there always? They must make a sixth design but they get help. They get one of the previously outed designers for 24 hours. Mondo picks Mila. Austin chooses Anthony which I'm thrilled about. These two are a hoot. Michael picks April and even she seems surprised by the choice.
The 24 hours fly by and we'll soon be on our way to the runway. Well, not soon enough. We have to wait until next week.
Are you excited to see the red carpet show? Are you as tired as I am of Mondo's tortured soul routine or am I being too harsh? Either way, these are three talented designers and I think who will win is anyone's guess.
C. Orlando is a TV Fanatic Staff Writer. Follow her on Twitter.