It's been a long season but we've finally made it to the Project Runway All Stars "Finale Part 2" 
After last week's major meltdown, Mondo seems in much better spirits. He even jokes with Austin, asking: "Does Liza Minelli know you went through her wardrobe?"
Austin, the diva that he is, takes it all in stride by comparing his excitement on the big day to having a "fashion orgasm."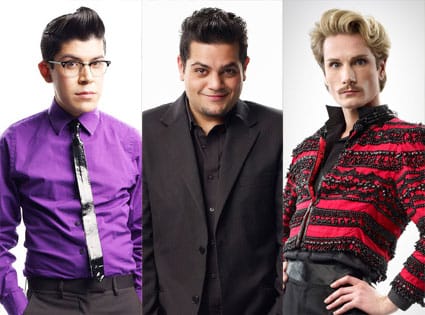 There are actually minimal missteps before the big show and Joanna's there to talk them through it. Austin's trying to hide some pins still in his gown while Michael has to take six inches off of one dress due to an improper last minute fitting. Joanna even rolls a lint brush over Mondo so he looks his best.
The two big guest judges are iconic fashion designer Tommy Hilfiger and the fashion director for Neiman Marcus, Ken Downing.
Each designer gets to tell the inspiration or story for their line before it hits the runway. Austin's is about a 100-year old vampire living in Brooklyn and stealing stylish pieces from the Hasidic jewish community. 
I certainly didn't see that one coming. I've never seen anyone in the Hasidic community wearing fuschia, but at least it explains the hair styles Austin's created. We'll just have to go with.
After his ouster back in season one just before the big runway show, Austin finally gets to show his line. Overall, I really like it. It's classic Austin Scarlett. I agree with the judges that it is glamour with a youthful appeal. Of course, I can't imagine anyone wearing those pants but the rest of the line, from the lacquered lace dress to the wedding gown are all beautiful.
But the judges bicker about the line's cohesiveness. Should he have included the wedding dress? Isaac thinks it looks like a designer's best of collection instead of one line. Is that really so bad?
Mondo's up next and what's with all of the big, poofy, 1980's style hair? I hate the pants suit but of course the judges swoon over it. Overall, I like the dresses, especially that ink blot dress and the long flowing one with the red applique. The entire line has Mondo's point of view all over it.
Isaac says his choice of fabrics shows wit and Tommy thinks it's the 1960s meets the 1980s. Ken says that in certain cases Mondo lacks restraint, like with the oversize pockets and buttons, but Tommy proclaims him a true artist.
On to Michael, who has a safari theme. I normally am not a fan of animal prints but Michael's choices are inspired. Tommy thinks he could put these in a store and sell them tomorrow but Isaac says his mix of prints could have been more interesting. The judges argue about whether Michael's looks are too commercial.
Wait, that means that people will buy them, right? Is it really a bad thing?
The boys get sent to the back room while the judges hash it out. I give Michael extra points for his "May the force be with you" toast.
When they're called back we find out that the two losers second runners up will win a five-star trip to Paris. Not a bad place to lick those designer wounds.
And the winner is... Mondo. It's not really a shock. The judges have loved Mondo for most of the season and he was robbed of a win the last time he was on the show. 
I know Mondo won the big prize but I can't imagine that Austin and Michael won't be getting phone calls from somebody tomorrow. Their clothes were gorgeous and the judges seem to agree that both designers could easily sell their wares to the masses. That has to count for something.
So... until later this summer when the regular Project Runway returns, with the regular cast (thank goodness!), we'll have to say Auf Wiedersehen for now.
C. Orlando is a TV Fanatic Staff Writer. Follow her on Twitter.