In true Revenge fashion, "Scandal" both clarified priorities and muddied the waters, doing both at a breakneck pace. Be careful. If you sneezed during this hour, you might have missed something good.
We headed straight from the murder scene at the party to the police station where everyone was interviewed... except the person with the least to say was the one with blood on his hands. Daniel just kept repeating that he didn't remember a thing. Did anyone actually believe him?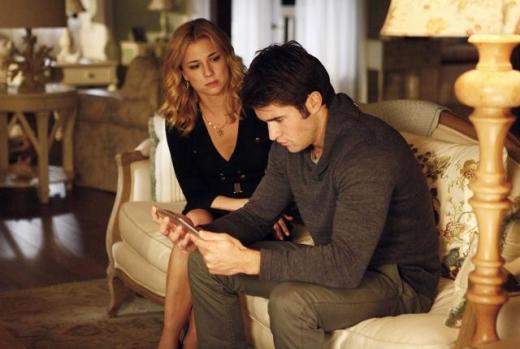 Taking down the 1%. Everyone wanted to see the rich boy go down and Ashley was more than willing to give them what they wanted. She leaked the photos of a bloody Daniel to feed the media fury. Then she stepped in and played the role of spokesperson for the Graysons, getting her pretty face in front of the camera as often as possible.
Ashley's out for Ashley, but now that Nolan knows her dirty little secret what will he do with it?
Circling the wagons. Conrad and Victoria may have been at one another's throats most days but not when it came to protecting their son. Conrad quickly flew in the best lawyer money could buy. Of course, this wasn't the first time they'd scrambled to get Daniel out of serious trouble.
Victoria's view of Daniel's past run-in with the law was just a tiny bit warped. His drunk driving caused his then-girlfriend to spend the rest of her life in a wheel chair and Victoria referred to the incident as a "youthful indiscretion." Talk about shading reality. With that attitude she could be a politician. But I suppose once you're willing to frame your lover for acts of terrorism, buying off a judge to cover up your son's drunken binge is no big deal.
It was fun to watch Victoria and Conrad bond over the dominos falling as the they contemplated how the Hell they got here. They could even joke about the size of the mansion they were now stuck in together for appearances sake. It was a mere 24,000 square feet in case you missed it.
Then they remembered all they'd done to keep out of prison and living the life of luxury. They found a fall guy in David Clarke.
Speaking of fall guys… Oh, Jack. He really should have listened to Nolan and taken off for Haiti. With Amanda nowhere to be found, the Graysons will happily set Jack up to take the fall for Tyler's murder if it means getting their beloved Daniel out of Rikers. Victoria was right about one thing: I can't imagine Daniel will last long there.
What was it with the Porter boys and that damned hoodie? Jack and now Declan both knew that that one piece of clothing could link Jack to the murder scene. Why were either of them keeping it around? Bleach it or burn it but do something other than keep the damn thing at the bar so it's just waiting to be collected as evidence. Of course the Porter boys have never been the brightest characters on this show. Why should that change now?
The big reveal. I figured it would be weeks before we found out what really happened on that beach, but Revenge surprised me yet again. At least my guess was correct. Takeda knocked out Daniel and killed Tyler but when he said he took care of Amanda, what exactly did he mean? Did he dump her body out at sea or sell her off to the sex trade? Amanda could be imprisoned somewhere or living the life of luxury in a far off land. At this point the truth is anyone's guess.
Takeda's warning to Emily struck an ominous chord. You can't save them both. Daniel and Jack are both in the crosshairs. Save one and the other will most likely take the fall for the crime. 

Great Nolan moments worth mentioning...
How cute was Nolan when Emily threatened him? He's adorable when he's scared of the girl who can kick his ass.
As my comments in my last review about Nolan's hair upset so many, I will put down my scissors but I still feel like I constantly want to push his bangs from his eyes.
Nolan describes Amanda as popping up like the "homicidal stripper version of whack-a-mole?" That may be one of my favorite lines on any show. I want to meet the person who wrote it.
The genie may just be out of the infinity box for good. Emily wants revenge against the Graysons. Will Daniel dying in prison for a crime he didn't commit satisfy that debt? And how will you survive an entire month without Revenge?  No new episodes until April leaves us plenty of torturous empty time to discuss the most exhilarating show on TV.
C. Orlando is a TV Fanatic Staff Writer. Follow her on Twitter.