Fans received some great news this week: Smash has been renewed for season two. Even better news for others? Julia and Michael's affair is over!

Overall, I like Smash, but it feels like two shows crunched into one hour. The musical side is enjoyable to watch, but it loses on the personal side of the story. Pick any character involved in the musical and their professional life is enjoyable to watch play out, even Ellis most of the time... but their personal lives are a disaster. And not the kind that's enjoyable to watch.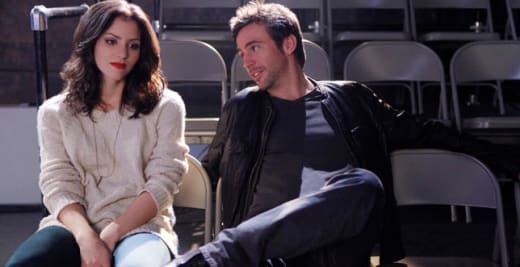 Eileen and her horrible husband are annoying. Though the introduction of Eileen's daughter was a highlight. She gave Eileen a much needed reality check, but I'm glad she just dropped by and isn't sticking around.
Julia's family life is an utter mess: from the adoption, to her son's arrest and her affair. I'd rather see her work on the musical and never see her home life again. Brian d'Arcy James, who plays Julia's husband, is a Tony-nominated Broadway actor. I'd heard that at some point he would be singing and I was looking forward to that. But to a video game? For five seconds? Disappointing!
What is the point of Dev's work troubles? It doesn't really fit into the story and is a poor way to include him outside of his relationship with Karen. While it's important to see that Karen is in a loving relationship, we don't need to see him at work. And I especially don't need to see him hook up with R.J.
Ellis is a despicable person and only out for himself. Is it necessary to show him in bed with his girlfriend chatting about his intentions to get that across? No, his actions make it plenty clear. If he listened to her at all and used her as a moral compass, her character would make more sense. Instead he has dismissed her suggestions.
On the positive side, the Derek and Ivy relationship has developed in a surprisingly positive manner. There have been some bad moments along the way, but after a few days apart they are in a good place. With Ivy out of the lead role that could give them a better shot at lasting.
Despite all my complaining above, I love the production aspects. In "The Coup," Derek and Eileen decided the musical might benefit from a tone change and commissioned a new song and production to test. Neither of them handled the situation correctly, but they had a sound basis for their plan.
The workshop showed that Marilyn: The Musical was very traditional. The music, dancing and staging were safe and didn't push any boundaries. That's not necessarily bad, but could it be better?
Karen's performance of "Touch Me" (written by OneRepublic frontman, Ryan Tedder) was not traditional in any sense. The lyrics, music, staging and costume pushed the boundaries from traditional Broadway show to music video level. Was it over the top? Definitely! Was it exciting? Oh yeah! "Touch Me" is a catchy tune.
Does it fit Marilyn: The Musical? Not at all. It was clear that neither Tom nor Julia were happy at all with the performance or the implication of what Derek and Eileen did. But, in the end, I'd love to see Tom and Julia take inspiration from the song and performance and liven up the musical by stepping out of the box and doing something new.
The best part of Derek and Eileen's covert action was the confrontation between Tom and Derek. We finally found out why Tom doesn't like Derek. Now that their issues and feelings have been released, will that clear the air between them? They used to be friends; I'd love to see them really work together. They are so different, but sometimes that's when brilliance is created.

With the workshop over, the musical must go on. While I wasn't a fan of Ivy when she went all diva, she has grown on me over the last two episodes. She went through the high of getting the lead role of Marilyn and now the low of losing the part. That moment when Tom broke the news to Ivy was heartbreaking to watch. At least she understood the decision. If the part had gone to Karen instead of a soon-to-be-cast star, that conversation would have gone an entirely different way.

I'm thrilled that Smash has been renewed for another season, I just hope that either it focuses more on the professional side of the musical or they improve the writing regarding the characters' personal lives.
Did you love "Touch Me" or was it too much? Would you like to see some changes in the musical or did you like the traditional look and sound at the workshop? It looks like Uma Thurman will be taking a stab at playing Marilyn. Will she be better then Ivy?
Carla Day is a staff writer for TV Fanatic. Follow her on Twitter and on Google+.