I can't imagine this week's knock against "Cash For Gold" scam shops hit home with any South Park fans quite the way a TSA pat down would. Nor could I imagine too many fans have been victims of home shopping networks, either.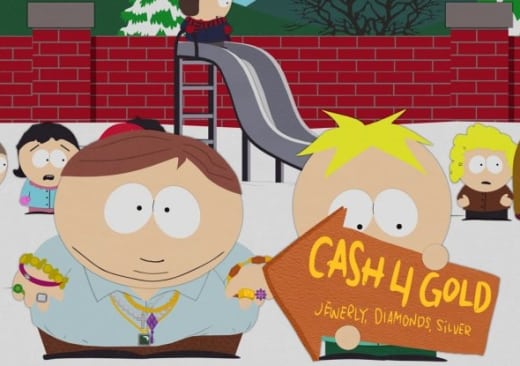 Well, maybe some of us have some relatives that have fallen victim to the latter. Yeah, myself included. So at least those digs were a little better for me.
But, really, the key to any South Park is how it ridiculously ties everything two seemingly unrelated plots. This week we followed Stan, Kyle and Kenny (yes, he's alive and well) as they followed every Hindu fart proverb all the way to India as they tried to get to the bottom of who's to blame for ripping off Billie's grandfather and thus Randy's inheritance.
So who was it? Was it the Cash 4 Gold stores, the home shopping networks, the Indians who make the jewelry, or Cartman's far-fetched theory of the Asian ladies he likes to f**k. Apparently, it's some combination of the first three. Or as Stan put it best: "Whoever smelt it, denied it and rhymed it."
No, it wasn't exactly a biting satire of the stores or network. But our adventure to India has some great laughs, especially when Stan would call into Jewel Bonanza asking Dean to kill himself. 
Even if the A story wasn't the strongest, you can always count on Cartman for the laughs. Using a bit similar to when he accused his mother of trying to f**k him, Cartman stepped up the game here when old women and Asian ladies were involved.
Overall, the episode wasn't as brilliant as Cartman's formula or even last week's satire. But that didn't mean there weren't a few good South Park quotes along the way. Some of my random observations:
Are you a fan of panzo-panzanite?  
Bolo ties are really in right now.
You should be saving it for when you die. That's our money
Love the fact that Taco Bell bought gold. Seven-layer burrito but that's as high as I'm going.
I gotta get the taste of old lady dick out of my mouth.
We have got to hire Butters as the official TV Fanatic sign twirler.
How much do you think Sean Penn got for his Milk Oscar? $8? $9 tops?
I'm calling about those peridot earrings. I think they'd look good on your dead body.
NOTE: How would you like to review South Park going forward? Submit a writing sample to Matt@TVFanatic.com if you'd be interested in becoming our new South Park critic!
Eric Hochberger is the programmer of TV Fanatic, so please forgive his mediocre writing. His programming is far better. Follow him on Twitter and/or email him. Just don't request threaded comments. They're coming.