It's official: Even a hurricane can't stop The Finder.
Stranded at The Ends of the Earth, Walter and company managed to find the whereabouts of a missing high school girl this week, even as the "Eye of the Storm" took its toll on southern Florida. And it sure made for a rather interesting hour.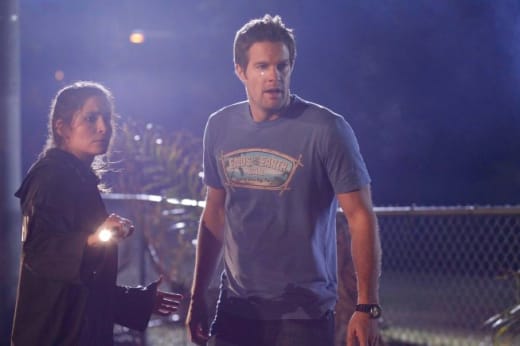 I think my favorite part of this episode had to be the unconventional ways in which Walter and the team had to go about tracking down Melissa Welling. We all knew from the minute her face flashed on the screen as missing that Walter was going to be on the case.
Congrats to the writers for making the pursuit of Melissa at least mildly believable in the midst of a hurricane.
The human search engine idea was brilliant; it was like watching Google Maps, hearing them narrow down where the video they found of Melissa's confrontation with Renee was shot.
Even funnier was how much Willa tried to stay away, unsuccessfully, from the lure of the Internet, especially with her parole officer Christina breathing down her neck. She really is one of the most crabby people.
But it amazes me how much she and Willa have in common, which is something that Christina actually owned up to in this episode. Who knew she was once in the system?
I was really struck by the decision to make the main conflict centered around bullying. Makes you think about the pressure you might have felt in high school or that time you were bullied as a kid. It seems to be one of those social issues which we constantly hear about. It's really heartbreaking.
It was a fairly solid episode overall. Now, The Finder will be on hiatus until its April move to Friday, when 50 cent will guest star on the first episode back. I can only begin to imagine what shenanigans might ensue.
Do you think Willa and Christina will share an amicable relationship in the future? Do you believe a missing girl could be found in the middle of a hurricane?
C. Charles is a TV Fanatic Staff Writer. Follow her on Twitter.