Matthew Perry made his shady presence very much felt on last Sunday's new episode of The Good Wife, which also featured a partnership decision at Lockhart/Gardner and a salvo in the ever-burgeoning Alicia vs. Jackie feud.
How did our Round Table team of Matt Richenthal, Carissa Pavlica and Christine Hinton feel about "Blue Ribbon Panel?" So glad you asked! Read on for their latest take and then chime in with your own...
-------------------------------------------
What was your favorite scene from the episode?
Matt: Probably Cary giving testimony at the panel. We haven't seen a great deal from him recently, so it was refreshing to see his lovable smugness on full display. Did your boss not pursue this case for racial reason? I can't answer that, but I can be offended by it.
Carissa: It wasn't my favorite moment, but perhaps the most frightening: the look on Jackie's face when she got up out of that salon chair to talk to Alicia. I felt as if I was watching the Devil incarnate dressed in granny clothing. She truly scares the crap out of me.
Christine: Diane referring to Will's seat as a toy that David Lee, Julius and Eli were all fighting over but if they got it, they'd only break it. Great analogy. Will was concerned she wasn't being smart, but he needn't have been. I love Diane a little more with every episode.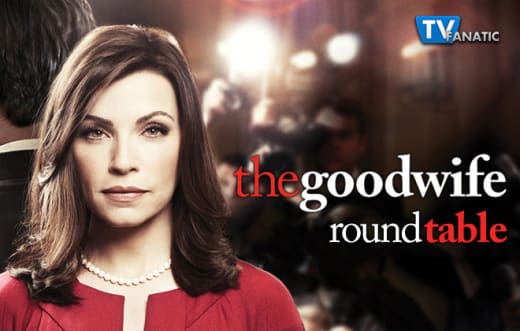 Do you want to see Peter run for Governor?
Matt: Absolutely. For a show that lives in the morally grey, what better suited area is there than politics? The pull of what good one can do in office, versus the push of what bad actions one must sometimes take to get there, always fascinates me.
Carissa: I guess it will make the show more interesting if he does, but as a character, I don't care one way or another. In other words, maybe he NEEDS to run for Governor in order for me to give a hoot about his character's place on the show, because as of right now, he bores me. It would also take Eli away from the bickering in Lockhart/Gardner, and that has to happen, too.
Christine: Heck yeah. Whether Peter and Alicia are together or apart, that type of campaign will add all types of stress and complications and should make for good TV.
Do you want to see Matthew Perry return?
Matt: Yes. I sometimes fear The Good Wife is in danger of getting overrun by guest stars... but then Michael J. Fox, Mamie Gummer and now Perry put a smile on my face and who am I to argue? Could they be any more entertaining?
Carissa: No.He was a grade A horse's arse. I hate when they portray members of the justice system not caring about actual justice. I know it's true, but can't they at least try to make us think it works differently?
Christine: Sure, he was annoyingly complicated but I enjoyed him. After so many years as Chandler Bing it's hard to see him as anything but a lovable goofball, yet I still thought this role worked for him.
Grade this week's Case of the Week.
Matt: B. It went a little far is painting Alicia as the only legal mind on the panel who cared about actual justice, but the simple answer is that I was intrigued and enjoyed both Perry and Charles S. Dutton as the pastor. I'm also thankful I took a week off from playing the "Drop Gun Drinking Game" because, man, I wouldn't have made it through the first commercial break.
Carissa: What WAS the case of the week? Was it the shooting of the man's father at the train station or the FBI agent who wanted to date Kalinda? If it was the former, I find it odd that two weeks in a row the cases so closely match what is happening in the real world, i.e., a race-baited shooting. I love that Alicia never lets things just stand as is.
Christine: B+ The world is full of shades of gray and The Good Wife is at its best when it doesn't give us easy answers. I didn't even mind that we'll never really know what exactly happened on that train platform. It was still fun to watch the politics that make up the blue ribbon panel.