We were treated to a guest appearance by the amazing Eve Best of Nurse Jackie fame on Up All Night this week, but it was not totally clear how she entered into the picture.
"New Boss" could have been a much better episode had Best been given more screen time to better outline how the change in command took place. The episode was not completely devoid of explanation, but distracting us from any attempt to further understand the show's big change was Ava's struggle to cope with the departure of her boyfriend, Kevin.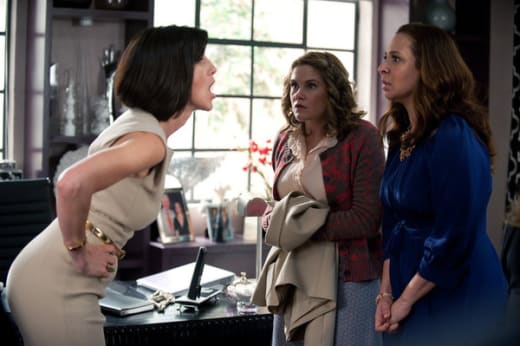 I felt like after such a great performance, Jason Lee's character deserved better. The breakup deserved to be an episode unto itself. We were made to care for Ava and Kevin as a couple, to not make us privy to how things ended or what was said just seemed like a rip off. 
Chris and Reed working on Uncle Wolf's bike would have been a fine side story on its own. Reed may not have been the beast, but he definitely was ready to "Beat It" in that red leather jacket. The kid heckling him from off camera was a great touch. Chris braving the roads of Los Angeles on the donor-cycle and still finding the wherewithal to flirt with a fellow motorist was classic, as was is struggle to take off his pants later that night.
It was very reminiscent of the Friends episode where Ross Geller was owned by a pair of leather pants while on a date.
While the episode had plenty of good moments - such as Ava freaking out on Reagan in her office and Chris reminding her of the contract she signed before going back to work - I just felt like there was too much crammed into the half hour time slot. Perhaps they needed to wrap up the Kevin storyline to make way for an exciting new development. I would be okay with that just so long as it does not entail more Luke and Reagan scenes.