Up All Night Review: Too Close For Comfort
Leigh Raines at .
You would think that with the Fonz and Sharon Osbourne guest starring, this would be a fantastic episode of Up All Night. Unfortunately "Daddy Daughter Time" fell a little short.
The only thing that was not lacking was Chris's use of the bronzer in hair and makeup. Do we have a beauty product addict on our hands?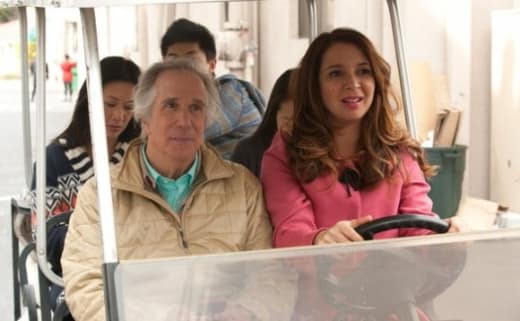 Without a doubt, Chris loves the spotlight. When Ava needed someone to fill in as the legal advisor on the show, Chris was chomping at the bit for the gig. Why Reagan and Ava wouldn't automatically choose him is beyond me. He's smart, eager, and, most of all, free!
Of course, working with someone really close to you isn't a great idea. I don't blame Chris for having a less than stellar first episode. It's only natural to have nerves. At least he looked nice and tan. Also, telling your audience to "do that math?" Eh, we're kinda lazy.
It was only a matter of time before Reagan hit her limit with Chris in the office. He took over her space with his personal phone calls. Is it hung or hanged? I always wondered that, too. I love Chris, but I agree that it is just too close for comfort work with your spouse. It's healthy to have that independence.
There's a reason that Reagan went back to work and Chris became Mr. Mom. She needs that busybody lifestyle. 
Sometimes companionship is craved. Ava was so excited to see her father - played by the Fonz, Henry Winkler, with a rocking ponytail. Unfortunately, he had a Yoko Ono situation and Ava didn't get any alone time with him. Did you all get that vibe? With such fantastic guest stars, I really expected to to feel more impressed. 
Winkler had a lot of potential but I feel like nothing really panned out. He and Ava had a moment at the end that was sweet, but other than that it was kind of blah. Sharon didn't have much of a purpose, which is a shame because normally I think she's a hoot.
How sweet was Chris at the end when he told Reagan he needed to be honest and then proceeded to compliment her on getting more and more beautiful? Aww. 
So, do you guys think this episode felt a little flat? Were the guest stars underused? Don't forget to check out our favorite Up All Night quotes and hit the comments!