Okay, I have a statement to make: Silver has officially gotten with every dude on 90210. There, now that we got that out of the way we can discuss this week's episode, "Bride and Prejudice."
Naomi was going full speed ahead with her wedding planning, completely unbothered by the fact that the PJ wanted the ceremony to be in just two weeks.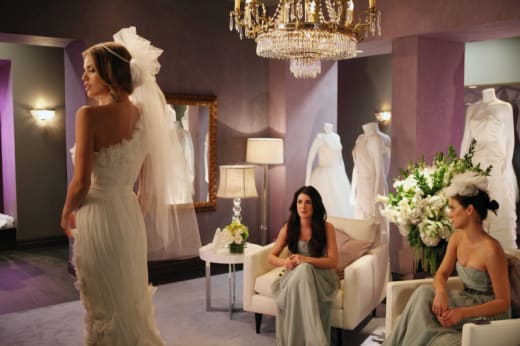 I don't recall if Annie told PJ that she would tell Naomi if he didn't, but I think that would have been a better plan. Hasn't anybody learned on these teen shows that lying just gets you into more trouble? Ultimately Annie did the right thing and squealed to Naomi.
Naomi at first seemed pretty unbothered by it all. Rich people are weird with their money and thus do weird things. It's nothing Naomi hasn't experienced before being a product of money herself. There are always clauses and what not, but she believed PJ loved her.
Not to sound like a totally naive moron, but I actually believe PJ loved her, too. I'm not sure that Arlene - our regular 90210 critic - is in agreement, but this is just my thought. The question now is whether or not he loves Naomi enough to give up the money and just marry her later on. Only time will tell.
I felt really bad for my girl when she was crying alone in her car and Annie got in. Naomi basically has no family and has been abandoned and screwed over by a lot of people in life. It seems as if she's the only one of the girls who doesn't know if she can really believe in true love anymore.
I mean, we've got...
... Annie, who thinks she loves the priest after a few weeks.
... Adrianna, who flits from guy to guy.
... And Silver, who is in a naughty little love triangle of her own. Speaking of, here's my theory on all of that: Whatever. Silver and Navid weren't together when she and Liam bumped uglies, but Liam is still her best friend's ex boyfriend, as well as her ex boyfriend's best friend. It's not so much that she got with someone else, as it's about who that someone else was. 
So the theory is that Liam knocked up Silver and with all that's come up with the cancer gene, she might consider keeping the baby? Then where does that leave her and Navid? Poor Navid, he just got back and things are already crappy for him.
What did you all think of this week's episode? Was it a welcome return after the underwhelming "Blue Ivy?" Check out our 90210 quotes and hit the comments!