Which Salvatore brother will on Elena's arm for the upcoming Mystic Falls Decade Dance? Who will Jeremy be hanging out with in Denver when we see him next on "Heart of Darkness?" What can we expect from the third season finale?
We've rounded up the latest Vampire Diaries tidbits and spoilers from around the Web, starting with the following photo from the April 19 return episode. Welcome back, Kol. We hope you can field your position, Elena...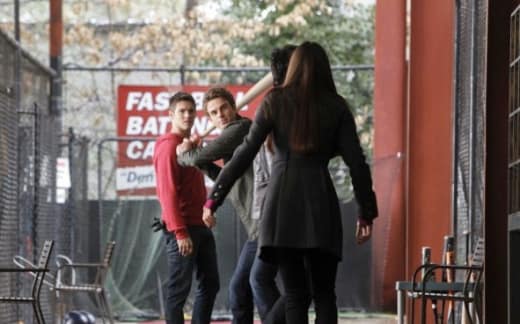 Elsewhere, TV Guide teases a "sweet exchange" on the way for Elena and Stefan at the aforementioned dance, as the latter will take his ex to the event. But don't expect the evening to lead into another "love affair," a CW source says.
Finally, what can Joseph Morgan tell us about the May 10 finale, titled "The Departed?" Can we look forward to a cliffhanger of some kind? It most definitely sounds that way.
"The biggest thing we're going to get is a backlash at the end of it from people who are desperate to know what happens next," the TVD star tells TV Line. "It's going to be more dramatic than last year's finale."
Matt Richenthal is the Editor in Chief of TV Fanatic. Follow him on Twitter and on Google+.