Talk about a total and complete turnaround from the start of the season. "System Failure" was hardly recognizable, sort of like a puzzle piece thrown into the wrong box, but darned if you're not going to fit it into the puzzle you're building anyway.
I suppose the sheer number of Army Wives characters on screen became too unwieldy, so they introduced a few more to get rid of some of some of the men. Did that even make sense? At least that's how I felt about the introduction of Captain Galassini and her proposal to head a mission to Africa.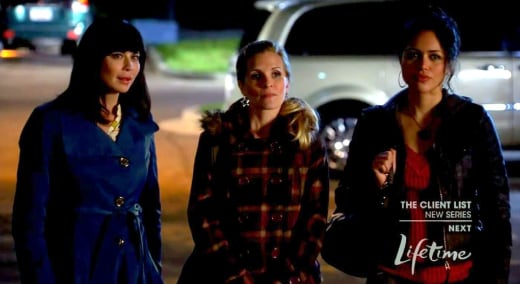 Frankly, I didn't understand much of what was going on, other than infighting within warring tribes in Africa and the need to keep them and the Americans around them safe. No one on base knew why there were all called to 30 minute DRB, but it must throw their world off to be so in the dark, not knowing where they're heading or when they will be back.
It's those little skirmishes around the world that people tend to forget about, when dismissing the military, I think. It's easy to stand up and demand people who can't fight for themselves get help from America, but where does that help come from? Our soldiers, and the families that love them.
The other big story of the night was watching Claudia Joy suffer yet again. The world seems determined to keep that woman down, but she's determined to stay upright.
As a complication of her diabetes, she suffered what amounted to total kidney failure. The scenes between she and Emmalin were so lovely and it was great to see Emmalin again. I had to agree with her when she asked, hasn't my mom been through enough?
Thankfully Jackie was at the never-ending DC conference, allowing Denise and Claudia Joy to re-cement their friendship at a time when Claudia Joy needed it the most. It was certainly helpful for Denise to work in the hospital, so when Claudia Joy was crying Denise could slide into her room and comfort her.
After all, Michael and Emmalin couldn't be there all the time. Emmalin was crushed when she was denied the opportunity to donate a kidney, but it lit a fire in Denise's brain, and she wants to try to be Claudia Joy's life donor.
I was amazed that Frank took it as well as he did. It showed just how far the Sherwoods' relationship has grown over the last couple of years. Their level of trust is admirable and I love that they have each other's backs, even if it wouldn't be the easiest decision to live with.
It looks like the canvas will look a little different for the weeks to come. Jackie will come back but won't have Kevin at her side. How will that and Claudia Joy's medical condition affect her aggressive behavior?
Might they all find a way to be friends? Gloria is going to need a friend and maybe a job. She'd make a great waitress at the Hump Bar, don't you think? Other thoughts on this week's Army Wives?
Carissa Pavlica is the managing editor and a staff writer and critic for TV Fanatic. She's a member of the Critic's Choice Association, enjoys mentoring writers, conversing with cats, and passionately discussing the nuances of television and film with anyone who will listen. Follow her on Twitter and email her here at TV Fanatic.