"The Family in the Feud" didn't just apply to the two hundred-year old feud between the Moblies and the Babcocks, it also applied to Brennan and her relationship with her father.
Yes, this episode of Bones was all about family.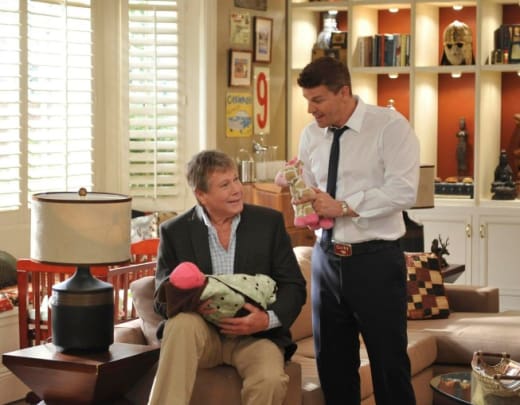 It seems Brennan managed to mount a coup against the powers that be at the Jeffersonian Daycare center. Who knew multilingual song time could be so controversial? Or that it could get one suspended from the facility? I don't know if it's just me, but I don't think disagreements between adults should get in the way of taking care of a child.
Unfortunately for Booth and Brennan, that meant they needed to find Christine a new caretaker.
And it seemed like Booth had the perfect solution: calling Max in. If only Brennan had seen it the same way.
It hurts me to see Brennan still impacted by her father's absence in her life. While it's completely understandable, the distress and anxiety it caused made me hurt for her.
Good thing is, everything seemed to work itself out in the end. Lord knows I want to see Ryan O'Neil on this show as much as possible. I love him as Max!
The most unexpected part of this episode had to be the alleged land dispute between the Moblies and the Babcocks. I did not expect a centuries' old metal poisoning to play such a huge role in the whole thing. Just look at what sort of domestic disputes we could have avoided if these ancestors had had the proper technology and vernacular to discuss their problems!
Other highlights from the episode:
Hodgins on a mad hunt for truffles.
Hodgins and Daisy making each other want to throw up when they realized the truffles were no good.
Brennan hanging out the car window to make a call to Max.
Daisy attempting to end the family feud.
Did you see the poisoned groundwater twist coming? What about the reemergence of Max?
C. Charles is a TV Fanatic Staff Writer. Follow her on Twitter.