In the words of Ethan Slaughter: "Outstanding!"
The latest episode of Castle, "Headhunters," chased down a murder between gangs, as well as pairing Castle up with a new partner. A Firefly reunion took place and oh was it fun. Let's discuss.
Mal & Cobb. Adam Baldwin guest starred as Detective Ethan Slaughter, a no-nonsense tough guy cop who Castle decides to shadow. Nathan Fillion and Baldwin worked together on Firefly and you could absolutely tell. The chemistry between the two friends paid off with a fun hour before we face the end of the season.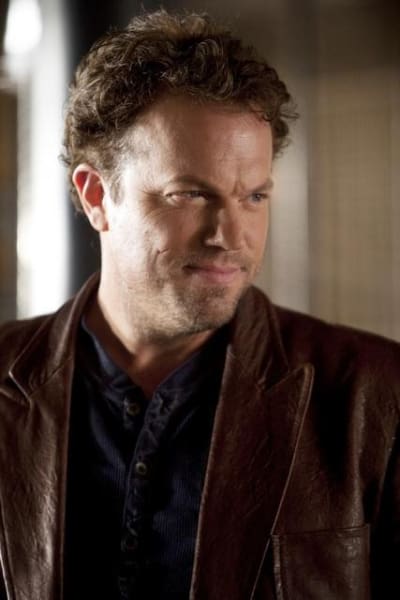 Slaughter is not a detective that I would want to watch every week, but I wouldn't hate if he popped up here and there to shake things up a bit. He brought some life to the show and placed Castle in a different situation. Not only did Baldwin rock this role, he also delivered some hysterical one liners that you can check out in the Castle quotes page. 
Fillion is nothing but loyal to his long time fans, putting in an Easter egg of his own to go along with the one written into the hour. We got to see the two trade off Mal's brown jacket and if you looked closely enough, there was a catalyzer placed on Castle's shelf. Loved it.
Leaving The Nest. Castle decided to branch out and hang with a different detective, stirring some feelings with his usual partners. Even with the bit of jealousy, Ryan and Espo still saved Castle from a bad situation. Beckett seemed to be pretty bothered by the situation, even speaking with her therapist about Rick.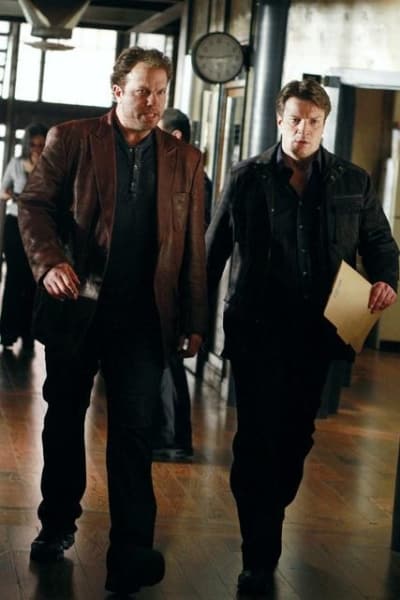 "You weren't waiting, you were healing." Beckett's therapist returned again to talk some sense into our beloved Beckett. She recognizes that Castle is pulling away from her and that maybe she waited too long. Well, duh! You said it yourself. It's been seven months. It's time to make a move before he seriously does move on.
What do we think about this? There are plenty of mixed feelings on the Caskett front. Some fans don't want to deal with the relationship drama, others are dying for it. I'm on the fence.
On one hand, the writers have done an excellent job of building the friendship between the two lead characters, making the chemistry feel real and understanding the feelings between the two. On the other hand, it's been dragging on for what seems like forever. Castle has put himself out there and so has Beckett. If it doesn't happen soon, I won't expect it to happen till series end. TV Fanatics, what's your opinion on the Caskett situation?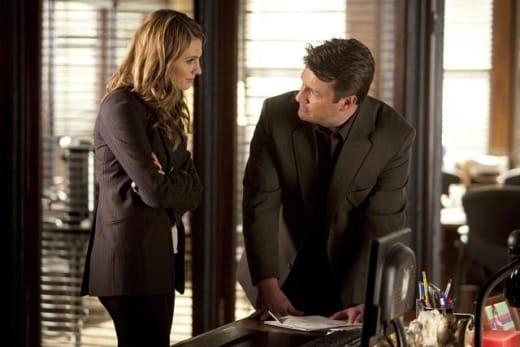 Side Notes. 
Alexis got into some really great schools. Didn't know I could be jealous of a teenage TV character about college acceptance...
Javi needs his own arc and quick. We haven't been getting enough Espo time in the last few episodes.
No Lanie tonight. Kinda sad, considering she played a rather big role in the last episode.
Did anyone really care about the weekly case or were you more interested in Slaughter himself? But, how entertaining was the garbage truck scene? I had to look away!
Who knew Castle packed such a punch?
Overall, a fun hour that held two reunions - Fillion and Baldwin, and even better, Castle and Beckett. Rick is back working with his real partner just the way we like it. Sad news Castle fans: Only two episodes remain in the season. So hit the comments and predict what is going to happen in the penultimate episode.
Don't forget to check back for the
Castle Round Table later in the week.
No episode next Monday, so make sure you take the time to discuss "Headhunters" and the
zombies to come
to pass the time.