On one hand, there's nothing to even say about "Pillows and Blankets," the latest Community parody that perfectly played off Ken Burns-ian documentaries in every conceivable manner. It was simply hilarious. Case closed, right?
On the other hand, there's everything to say about this installment of the NBC sitcom, because it was the ideal showcase for a series that can somehow combine sheer lunacy with actual character development and insight.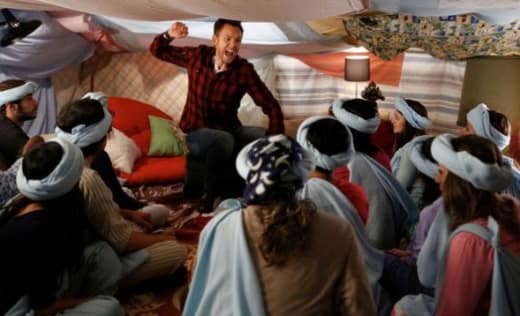 In a podcast on Grantland.com last week, Joel McHale talked about critics who miss the point of Community's parodies, writing off episodes such as "Modern Warfare" as nothing but a lazy spoof. They fail to note that Jeff and Britta had sex for the first time during that half hour, a major step in their relationship and in the growth of these characters.
Yes, there were paintballs whizzing through the hallways, but there was actually a lot under the surface for anyone who stopped to notice how the characters actually acted, and interacted, during the campus war. And for those who didn't want to stop and notice?
There were paintballs whizzing through the hallways! It was hilarious and ridiculous. You could have your Community either way you wanted it, or both.
The same can be said for this Greendale deluge of feuding feathers. It was utterly brilliant, from the absurd to the profound.
Of course Annie tended to both sides (via lint brush) and of course she tried to get Jeff to open up about his feelings (via a text-message-instead-of-quill-pen-written-letter-exchange that may have been my favorite bit).
Of course Jeff was only looking out for himself and trying to avoid school work. Of course Britta tried, and failed miserably, to be the self-righteous photographer... who believed black-and-white photos were automatically artistic and who only captured the perfect image after initially trying to snap the light hitting a stack of nearby waffles.
Of course Chang would cheat and bring in a group of Chang-lorious Basterds (Replacing In with Chang, see). And of course Troy would cry.
Every character note was ideally hit, culminating in what had to be the most moving, imaginary hat-based resolution in TV history. But it truly felt like progress was made between Troy and Abed over the last few weeks, with each acknowledging the other's faults, while also embracing the other in spite of - or perhaps due to - these same faults.
If I had an emotion for a giant thumbs-up, I'd plaster it all over the screen. This was Community at its zany, touching, hysterical best. Well worth over 12 people transferring as a result, wouldn't you say?
Matt Richenthal is the Editor in Chief of TV Fanatic. Follow him on Twitter and on Google+.