It's been way too many weeks since the previous Glee episode, which ended with two major cliffhangers:
Did Finn and Rachel get married?
And did Quinn die in the car crash?
Those were both answered immediately on "Big Brother" with a big NO; Finn and Rachel didn't say "I do." And Quinn is alive and well, but in a wheelchair with limited feeling in her legs. Did you breathe a sigh of relief in both cases?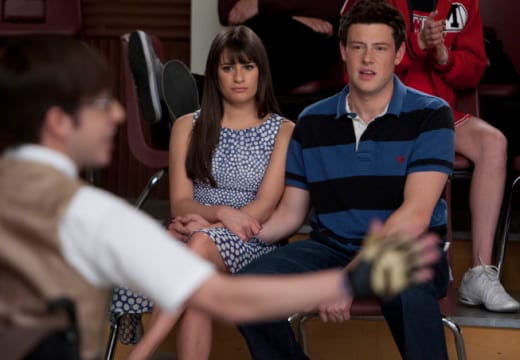 Finn and Rachel have plenty that they still have to work out before they finally get married, as was demonstrated by their conversation at the end of the episode. Rachel has always been clear that she wants to go to New York, but does she love Finn enough to adjust her plans to make room for him? Or should she have to? At this point, it looks doubtful they will ever walk down the aisle.
It's more likely that Quinn will walk again. Her accident gave the show the perfect opportunity to advocate against texting while driving and to showcase Artie as a mentor of sorts for Quinn. Their performance of Elton John's "I'm Still Standing" was fun to watch and ironic in a perfect Glee way.
It was difficult to watch Artie's reaction to Quinn's declaration that she would be dancing by Nationals. While I don't think he wishes her to remain in the chair forever, it has to be heart-wrenching for him to know he doesn't have that opportunity. Despite their differences, Artie was a good friend to Quinn. He knew when to push her and when to let it go.
In contrast to Artie's support for Quinn, there was the visit from Blaine's brother, Cooper (Matt Bomer). I've been a huge fan of Bomer from his work on both Chuck and White Collar and he didn't disappoint here.
He is hot, a great singer,and played Blaine's cocky brother perfectly. I never thought I would want to hit the guy, but Cooper was annoying. Didn't he just make you want to punch him in the face?
His commercial was hilarious, though. I was hoping that FOX had done something fun with the Free Credit Rating Today website, but it was a dead link. I don't understand why a show promotes a website in an episode and doesn't do something with it. They could have at least redirected it to the Glee show page. Or to a video or the commercial.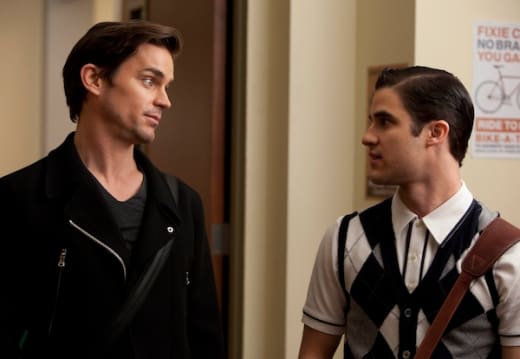 I was surprised to find out that Blaine saw himself as an underdog to his brother. Blaine has always been the standout in both glee clubs. He was given solos and constantly praised for his talent. His feelings of inferiority to his brother seems to have pushed him to succeed.
Their Duran Duran mash-up of "Rio" and "Hungry Like a Wolf" was entertaining and showcased them both well. But I have to say that I absolutely loved their duet of Gotye's "Somebody That I Used to Know" despite the awkwardness of the lyrics.
It was weird to see two brothers sing this song. It felt more like two lovers singing to each other than brothers. I had to remind myself of their relationship while watching. It was heartfelt and I've listened to it too many times since it was released.
Bomer's guest spot was a win. Sometimes, the guest star's appearance comes across as forced into the story, but his role was authentic and the songs were appropriate and well performed. I'd love to see the return of Cooper Anderson.
My favorite song of the episode was "Somebody That I Used to Know." My least favorite song was Christina Aguilera's "Fighter" sung by Blaine. The track didn't suit his character very well and while I didn't mind seeing Darren Criss boxing or taking a shower, it was awkward to see Blaine in those circumstances.
What was your favorite and least favorite song? Were you happy that Finn and Rachel didn't get married? How about Quinn ... glad she is alive? Hoping for more Cooper Anderson?
Here are just a few of my favorite Cooper lines from the show, but check out our Glee quotes library for more from this episode and every installment in the show's history.
Cooper: The key to a dramatic scene is pointing. When people are really emotional, they point their fingers a lot.
Blaine: That's not true at all. That's ... that's terrible advice.
Cooper: Excuse me, guys, I'm sorry. I'm sorry, Blaine. Are you an internationally beloved spokesman for the internet's fastest growing credit score website? | permalink
Cooper: Other choices I can plan ahead of time: screaming all my lines! Because I'm really intense. And the things I'm feeling are really intense! Because I'm a really intense actor! Nicholas Cage, right? | permalink
Carla Day is a staff writer for TV Fanatic. Follow her on Twitter and on Google+.