Welcome to the 309th Grey's Anatomy Caption Contest here at TV Fanatic, where readers submit their best caption(s) for a photo from the ABC drama! Ready to see who won this time around?
Your Caption Contest winner, using a photo from "Support System," is Amberlynn.
The winning entry now appears below. Honorable mentions go out to Nicole, tvshowknowitall and MIki T. Robbinson. Thanks to everyone again for playing - for 309 weeks and counting!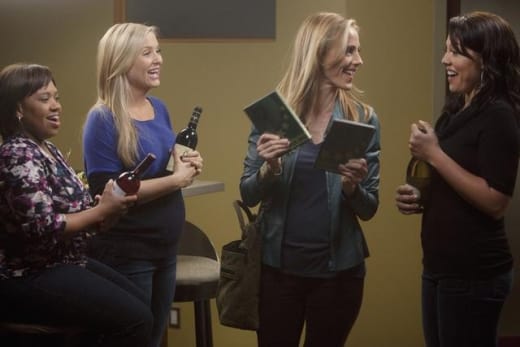 Teddy: Bailey holds red wine, signifying she is deep, dry-humored, and often resolute. Callie holds white wine, signifying she is complex and mysterious; neither dry nor sweet. She has many sides to her. Last but not least, Arizona is holding the dark red wine, as she is sweet, sensible, and oftentimes underrated.
Callie: You learned all that from those Grief Counseling documentaries? You seriously want us to watch those with you tonight?!
Bailey: I don't care where she gets this crap from, just give me a bottle opener, lackeys!
Arizona: Wait... I thought I was the mysterious one! Callie, trade me!
Steve Marsi is the Managing Editor of TV Fanatic. Follow him on Google+ or email him here.