Intensity. This is something that Grey's Anatomy knows how to bring right through your television screen, doing so once again via "Support System." There were fights, breakdowns, and realizations. So let's get to the latest review, shall we?
Oh Yes, It's Ladies Night. The idea of ladies night? Terrific. Watching all the girls try to get out of it? Ehhh. This arc would have been much better if the ladies did actually go out. Not that I didn't enjoy Teddy showing up with wine and Dirty Dancing (aka the newly single girls favorite move). And Arizona has really grown to be an enjoyable character. The writers have done a great job in making her the type of person you root for all of the time. At least she knew they couldn't ditch the big sad widow. 
Beef With The Chief. Sloan played Chief for the day in Owen's absence and he became Hardcore Sloan instead of just McSteamy. He knows the rules and he wants to follow them. Gotta say, I wouldn't mind having Mark become the next Chief. Plus, it gave Eric Dane a chance to light up the screen for more than just a few minutes.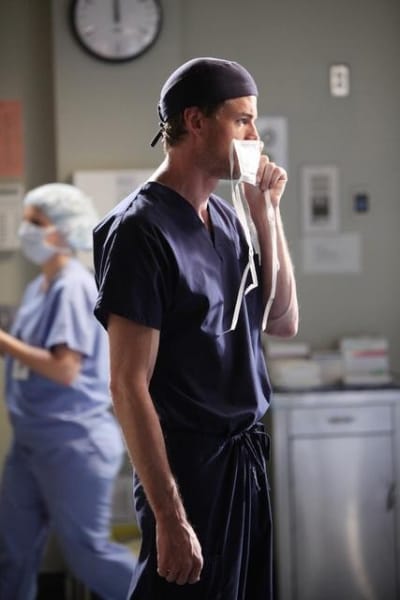 The McDreamys. How cute have Meredith and Derek become? Watching them in the daycare with Zola made me realize that these two characters have grown the most. Remember dark and twisty Meredith? How about the hot hookup during the prom at the hospital while Derek was still married? These were the building blocks of these characters and they have built them up to perfection. Seriously, love them.
Speaking of dark and twisty... Meredith continued to reach out to Yang knowing her situation. It surprises me a bit that Cristina hasn't confided in her person yet, but saying it out loud makes it real. That can't be easy.
Have A Right To Know? Oh Cristina, how much hurt can you take? After Owen admitted his one night stand with a woman from the hospital, Cristina begged for the details. Is this really something you want to know? Does this make it any easier or does it just hurt you more? For one thing, it makes it a reality.
The fact that Owen did this because he wanted to hurt Cristina about the abortion is just plain wrong. If you are not happy in your marriage, if you can't get over something, try to fix it or walk away. Do Not Cheat. There is no excuse, even if it was just for sex.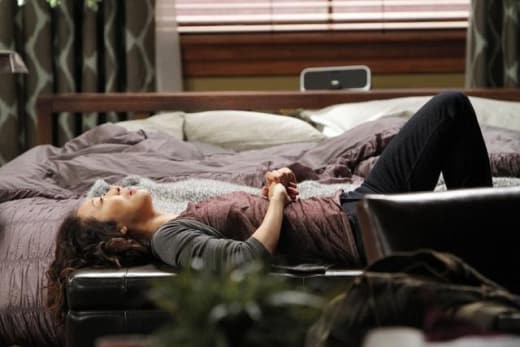 The hour ended with Owen leaving the home he shares with his wife. Is this the end for them or will Cristina take him back?
After Thoughts:
Mark Sloan should wear a suit every single day. The man cleans up nice.
How hilarious was Owen crashing through the door after Cristina unlocked it? Gotta love Yang's laugh.
Last episode, Lexis was all worried about Mark moving in with Julia. Now, not a word about it. Little Grey needs a solid arc of her own.
How cute is Mer helping out the other residents for their boards? Those exams are bound to be intense and who knows if they will all pass.
Overall, another solid episode from Shondaland. The flashbacks through Cristina and Owen's relationship were a perfect touch to prepare us for the breakdown between the couple. What is to come with these two? Will Cristina take her unfaithful husband back? How many of you with Burke would make an appearance right now in one of his sweet turtlenecks?
So until next time, TV Fanatics. Hit up the comments and let us know what you thought of "Support Systems." Was the build up of Owen's affair a let down? Don't forget to check back later for the official Grey's Anatomy Round Table. There are only a handful of episodes left. Make your predictions for the end of the season now!