Old Love, lost love, and new surprises. Mary was forced to deal with all three in "Drag Me to Hell," one of the funniest and most touching episodes of the season to date.
As much as I loved last week's episode, this one was equally good for different reasons.
So was Mary right? Absolutely. If she and Marshall were only partners then he would have told her he was considering proposing to Abigail. He didn't because he has feelings for Mary that they've never dealt with. 
Mary was shocked to hear the news. The look that ran across her face said that she felt as though she was losing something important. 
Are she and Marshall meant to be together? I don't really think so but I also believe there are plenty of unresolved feelings there that will come back to haunt them. Of course if they had given it a shot and it didn't work out I'm not sure they would still be able to work as partners. It's definitely a double edged sword.
It was good to see Raph again. Since he was never truly the one for Mary, she seemed OK meeting his new wife. I liked that everyone involved acted like an adult and not a bunch of jealous teenagers. Mary and Raph were both truly happy for one another.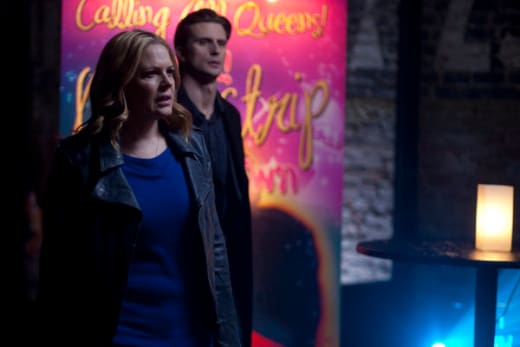 The witness of the week, Douglass, aka Candy was someone I really felt for. Being a drag queen wasn't just an act, it was a part of him. He'd have to reinvent himself to let that go.
I won't say that Marshall made the most attractive looking woman but I gave him credit for going all in on his performance. I loved how Mary and Stan crowed over having his performance recorded. Something tells me that Cheekbones will be legendary in that office for a long time.
Of course that is if there still is an office. Stan was furious to find out he needed to cut one Marshal. Delia seemed the obvious choice but as Stan looked through the files it was hard to tell what he was thinking. They are all family too him. How do you let one of them go?
I hated that Mary hooked up with Kenny but she did peg him on site as she explained in this In Plain Sight quote…
Mary: Charming single dad devoid of any moves. That's your move. | permalink
Mary falling into bed with Kenny was true to her character. When she and Raph broke up and Marshall was getting too close she took off with Faber. Kenny's just a convenient distraction. I hope he doesn't last long.
Daddy showing up on Mary's doorstep was one of the worst kept cliffhangers of the show. If you saw last week's previews you had pretty much guessed it was coming. I had no doubt that Mary would arrest him. Unfortunately I think he knew that too and it's all part of his plan. I don't think he showed up after decades just to tell his little girl that he loves her. There's more to this story and it's no fairy tale.
With so few episodes left I hope that we get at least one honest discussion between Marshall and Mary about what they mean to one another before the end of the series. This season of In Plain Sight has been one of the best. I've got my fingers crossed that the final episodes give fans the closure they crave.



C. Orlando is a TV Fanatic Staff Writer. Follow her on Twitter.