You either die a hero or you live long enough to see yourself become the villain.
Or you start a crime spree so you can be the hero. Such is the premise of tonight's episode of SVU, "Street Revenge," a dark exploration of vigilante justice. While not as unsatisfying as last week's installment, this episode was not a complete success. But it did offer some stimulating drama between Amaro and his wife.
The moody atmosphere of SVU seemed like an odd place for costumed vigilantes; it seemed a little too lighthearted for such a serious criminal drama. The masked crusaders did react rather violently to suspected rapists, but it just came across like a ridiculous concept. One of them was even named Fantastica. NCIS took on Batman-wannabes earlier this year in "Secrets," but that show has a more relaxed and jokey tone than SVU.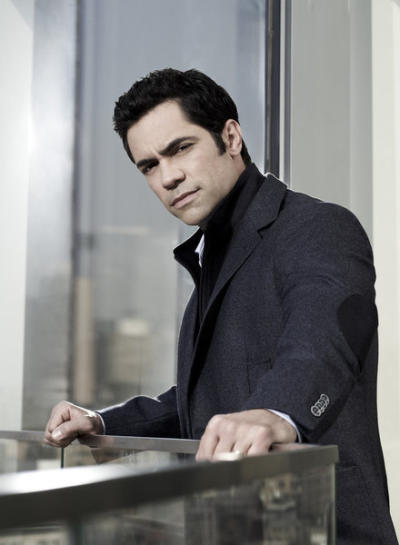 I won't say (again!) that the plot was predictable... but I'm certainly thinking it. Stuart stood out to me from that first press conference, and his presence on that rooftop just cemented my suspicions. The storyline may have been unoriginal, but it was an innovative approach to the vigilante angle, which is a familiar theme for the show.
The most interesting aspect of tonight's episode was watching the growing suspicions of Detective Amaro. At the end of the previous episode, we saw him following his wife and watching as she entered a brownstone. This week, he sees her having lunch with Captain Joseph Harris, introduced in "Spiraling Down." The two were stationed in Baghdad together, and their clandestine meeting just makes Amaro even more distrustful of his wife.
His anxiety grows when she lies about where she was, and his jealousy explodes when he confronts Harris. Amaro definitely overreacted; punching Harris before even speaking to his wife indicates how little he actually trusts his wife. Amaro may be quite the charmer (just see that scene between him and the transit worker), but he can be really manipulative. Even his gentle questioning of his wife's whereabouts struck me as a little controlling.
Do you think Amaro is too charming for his own good?
It was good to see his wife, Maria, confront him with his bad behavior, and, with any luck, the two will start working to mend their relationship. We've already had one failed relationship recently; it would be too dramatic to lose another, especially since she's recently returned from Iraq.