Bo and Dyson were not destined to declare their love for each other and ride off into the sunset together on Lost Girl. However, the opening of "Blood Lines" briefly tried to lead us to believe that was possible.
At least Bo understood that Dyson was not to blame for his sexual encounter with Saskia. Unfortunately, that was not the only prediction made last week that came true. Dyson came clean to Bo about her mother.
Saskia is actually Aife, Bo's mother! Shocking? Or, were you expecting it?
I was spoiled on this reveal a few weeks ago accidentally, so I knew what was coming. I would have loved to have watched that unspoiled. I'm sure it would have been more enjoyable.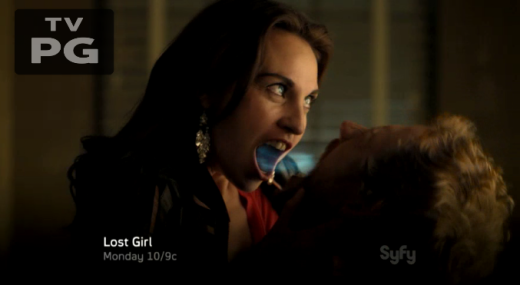 The hurt was written all over Bo's face. Dyson and Trick betrayed her trust. There has to be more to the story, right? Both Trick and Dyson didn't want her to know, but the truth wasn't something that would hurt Bo.
In actuality, her life was put in danger because they didn't tell her. If Bo had been told of her mother's misdeeds right away, perhaps she wouldn't have been determined to find something good in her.
Aife risked her own daughter by trying to start a war between the Light and Dark Fae. Though misguided in their deception, Dyson and Trick both risked everything to help Bo in the end. She has to find out what they did, so she can forgive them.
Dyson went to Norn, a wish-granting Fae. She will grant a wish, but in return takes what the person holds most dear. Previously, Dyson rejected the offer to give up his "wolf" for his wish, but for Bo he was willing to do it. Norn had something else in mind. She granted his wish to give Bo power to defeat Aife, but took his love for Bo in return.
What?!?! Dyson doesn't love Bo anymore? How can that be? Since a wolf loves for life, does that mean he can overcome this and remember his love? Or, learn to love again? I hope so, because as much as I enjoy Bo and Lauren's relationship, I prefer Bo with Dyson!
Trick wanted to make things right and gave into his blood book to change destiny. At that moment, Aife asked Bo to forgive her and to ask Trick more about her. Was that positive shift due to Trick? Did he change Aife? If he did that, it's too bad he didn't do something sooner. He could have prevented the attack on the Light Fae council and the pain that Bo went through.

Lost Girl ended on a bunch of cliffhangers, but thankfully we only have to wait one week for the season two premiere. Going into the next season, what is in store for Bo's love life? Will she and Dyson be able to overcome his taken love for her? Or, will Bo finally talk to Lauren and forgive her?
And, what will become of Trick, now that he has given into his Blood King heritage? Did the Ash survive? With Aife's disappearance, was the war between the Light and Dark Fae prevented or has it just begun.
Carla Day is a staff writer for TV Fanatic. Follow her on Twitter and on Google+.