Lost Girl Review: I'm Yours If You'll Have Me

Carla Day at .
The lost girl, Bo, finally found someone to love in Dyson. Why did Saskia have to come and mess it all up in "(Dis)Members Only?!?" Dyson was doing a fine job of it himself.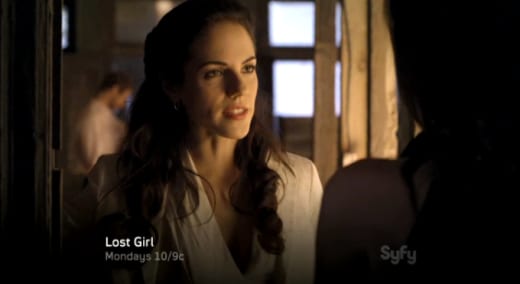 Despite the warning from Trick to stay away from Bo, Dyson refused to listen. The pull between Bo and Dyson was obvious as soon as they met, but they finally decided to no longer fight it and admit their feelings:
Dyson: I can be intense. I can be territorial. And, God knows I can be mule-headed. But, I'm also yours if you'll have me.
Bo: Dyson you are an idiot. You've been mine for a very long time.
Dyson: You better be careful because wolves mate for life. | permalink
Wow. It doesn't get much more romantic than that! Well, except for we know Dyson is keeping a huge secret from Bo; a secret that will pull them apart. Even though Dyson has presumably a good reason for keeping Bo from knowing the truth about her mother and family, that will be a hard sell.
It was a relief to see that with their declaration of love for each other, Dyson finally gave Trick an ultimatum: Tell Bo the truth or he would. Unfortunately, I fear that is too little too late as far as Bo is concerned. She still is barely speaking to Lauren and her betrayal was miniscule in comparison.
The case of the week provided a back drop for Bo and Dyson to see what a "normal" life together would be like. They both seemed rather uncomfortable in conservative clothing and socializing with other couples. And, most importantly, it led to the discussion about their relationship.
We met another new Fae, this one a Land Wight. It provided good fortune to those who provided human sacrifices for its survival. The Fae took a human form, but killed with a vine. This story and Fae reminded me of the Japanese Fae from earlier in the season that was on the college campus. Fae definitely don't hesitate to kill humans for their own survival.
In the end, Saskia returned and attacked Dyson almost killing him. At least Bo realized that Dyson was not cheating on her, rather that Saskia forced herself on him. What will Saskia do now that Bo stabbed her? Will Bo and Dyson be able to overcome this? Thankfully, Bo was able to use her own energy to save Dyson!
Both the fallout from Saskia's attack and the secret of Bo's family should come to a head next week in the season one finale. Then, we don't have to wait long for the next episode, as the season two premiere airs the following week.
Carla Day is a staff writer for TV Fanatic. Follow her on Twitter and on Google+.