One Tree Hill: Most Memorable Moments (Part 3)

Dan Forcella at .
With the One Tree Hill series finale just around the corner, we're looking back at some of our favorite moments from the teen drama that bridged the gap between iconic hits like Beverly Hills, 90210 and modern day winners, such as The Vampire Diaries.
Leading up to this evening emotional farewell, TV Fanatic has been counting down the nine moments from nine seasons of One Tree Hill that will stay with us for as long as Naley stays together.
Read the three entries below, add your favorites in the Comments, watch this evening's two-hour event and then return to TV Fanatic for a full review. Bring a Kleenex or two dozen.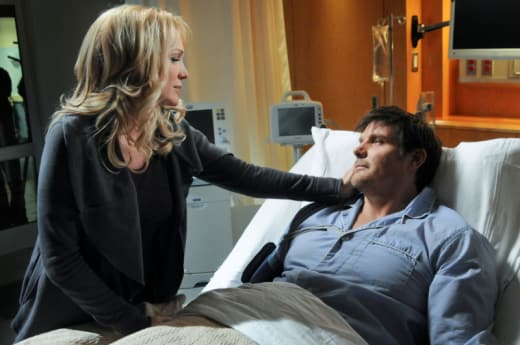 3. Dan Scott's redemption and death.
It all went down only a couple of weeks ago, but Dan Scott's redemption and final goodbye was one of the most emotional moments in the history of the series. The man that was responsible for so much pain and heartache for the characters on One Tree Hill was finally able to make up for all of that by going on an action movie-like rampage in order to save Nathan from the clutches of crazy European mobsters. Dan Scott might have been the biggest stud of all time in that moment, and it led to an extremely sad goodbye in the very next episode. His friends and family were able to forgive him for all the terrible things he did, and Dan went to heaven as Keith's plus one.
2. This is for my mom.
It was the first ever episode of One Tree Hill.  We met Lucas, Nathan, Dan, Haley, Peyton, and a marginalized Brooke. The landscape of the first four seasons was introduced, and the relationships between our favorite characters began to intertwine. It all came down to a game of one-on-one between Lucas and Nathan.  
If the abandoned brother won, he got to play on the Ravens - and technically won Peyton. If the rich brother won, Lucas had to stay relegated to the River Court.  Nearly everyone in town was there for the game, some rooting for Luke, some rooting for Nate. When Lucas needed only one more basket to win, he said to Nathan the corny but iconic line, "This is for my mom." 
1. Goodbye, Keith Scott
Dan Scott's redemption, and so much of how everyone acted from season four on, would never have been possible if it weren't for what went down in the 16th episode of One Tree Hill's third season. It will forever be the most memorable and the most important thing that happened in the series. It was scary, it was emotional, it was empowering, it was sad, and it was disturbing. Watching Jimmy lose control and take over the school was surprising, but taking in all of the uplifting sentiments that Keith said to the boy was inspiring.  
To follow up that type of emotion with Dan Scott - the man who had already been such an ass hole for three seasons - killing his own brother in cold blood, was nothing short of brilliant. Not only was the scene chilling in and of itself, but it changed the path of every character on the show for the final six seasons.  
Be sure to come back tonight following the series finale for our review of all that went down in the final episode of One Tree Hill. For now, let us know which of these three you will remember most:
Dan Forcella is a TV Fanatic Staff Writer. Follow him on Twitter.