One Tree Hill Series Finale Review: There Is Only One...

Dan Forcella at .
Even after the 45 minutes of interviews and clips highlighting the best moments of all nine seasons, the aptly titled "One Tree Hill" took us all down memory lane once again with callbacks to moments, locations, and characters of the past in last-ever episode of this classic drama.
Everything wrapped up in a tight little bow in the series finale of One Tree Hill, and I'm perfectly fine with that. It is certainly better than the adverse, where the audience is left in the balance, not having any idea what is going to happen to the characters it fell in love with.
That definitely wasn't the case with this ending, as we know exactly what Brooke, Nathan, Haley, Mouth, and the rest of the gang will be up to for the rest of their adult lives.  They will be living out the happy and the sad moments in this town... this place that they still look at ever so fondly.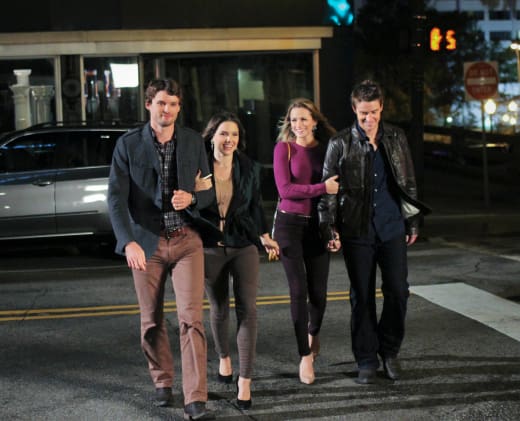 Things have come full circle on One Tree Hill. It all began with a majority of these characters living in this town as kids. Those that have stuck around are now grown, and have kids of their own. The difference – and one of the best takeaways from the series in general – is that they have all learned from not only their own mistakes, but the mistakes of their parents.
They weren't all as terrible as Dan Scott, but most of the adult figures in these characters' lives had their issues. Highlighted by Nathan's speech to Jamie about being able to live his life however he wants to, THESE parents are going to be different. This generation of Tree Hill moms and dads is going to be loving. They're going to be inspiring.
The whole thing might have been a little too over-the-top happily ever after, but it seemed like that was their plan after wrapping up the dark and twisted kidnapping story line a few weeks ago. I mean, there had to be one major life-threatening event that took the town by storm before they all could enjoy themselves for the rest of time. It wouldn't be OTH otherwise.
Are we supposed to believe it is all roses and chocolates from here on out for these people, though? I can't imagine why. After all, a lot of tragedy does occur in this town. The ever so present happy ending, however, does give off that feeling that even when the lumps come at these people, they will take it in stride, and overcome.  That's what nine seasons has proven to us.
While the macro side of "One Tree Hill" was more about celebrating and moving forward, the micro was still about wrapping up the final chapter for each of these characters.
As should be the case, given what these two have meant to the show over the years, Nathan and Haley were given one of the best send offs. They called back to their first moment, as Nathan once again gave Haley a bracelet out of a Cracker Jacks box and the two engaged in one final romp in the rain before skipping ahead some years to Jamie's basketball game.
Brooke, maybe the heart and soul of this series, was given a similarly fantastic ending. Her parents are finally there for her, she is getting to run her own company again, this time set up right across the street from Karen's Cafe instead of in it, and her man gave her a dream home. Sure, it was her old childhood home, but it answered everyone's dream that Brooke remain "the girl behind the red door" forever.
Clay and Quinn getting married and adopting Logan, Chris Keller signing with Red Bedroom Records, and Chase becoming owner of Tric, were all nice stories, but didn't carry nearly the amount of weight as the first two did, and rightfully so. Those characters weren't nearly as important to the series as Nathan, Haley, and Brooke.
The one send off that seemed like it was supposed to be carrying a good amount of weight, however, was Mouth inheriting the $500,000 from Dan Scott. I loved the call back to Jimmy, Keith, and that moment in the high school hallway that changed the landscape of the series forever, but I really couldn't connect with the story at all.  Mouth creating that scholarship was a nice idea, but it didn't hit me emotionally, which is probably because Jimmy was never a character they any of us got to know, including the rest of the characters on the show.
Last, but not least, the series finale did a great job of saying goodbye to Tric. Centering the hour around its 10th anniversary was a nice send off to the club that allowed One Tree Hill to do in its last ever episode what it did for so many years before... allow music to enhance emotions.
Just as slow ballads made the sad moments even more depressing, or pumped up bangers made the basketball scenes that much more exciting, the many performances in this finale allowed the viewers to feel the emotion that was in the air. It wasn't just the emotion of the characters.  It was the emotion of the actors, especially when Gavin DeGraw broke out "I Don't Want To Be" and the entire cast started singing along. That song – and music in general – was a major cog in what made this show successful. This played as a fantastic tribute to that.
After last week's penultimate episode, I worried that the series finale was going to be too narrowly focused on the making of Julian's show within the show. I worried for nothing, though, as that was just a minor detail in the conclusion of One Tree Hill.
Julian was making a tv show about these characters' high school lives week in and week out, but the ending of this series was about the fact that these characters that the audience has gotten to know over the years - some for nine, others for less - are going to be living out the rest of their adult lives in this town... this place that they still look at ever so fondly.
What did you all think of the last ever episode of One Tree Hill? Did it live up to your lofty expectations or was it an utter disappointment? How long will it take you to get over the fact that the show will never be on again?
Dan Forcella is a TV Fanatic Staff Writer. Follow him on Twitter.