It's safe to say that Private Practice has simply never been better. In fact, tonight's tragic and powerful installment continued to show that there are so many more stories to tell at Seaside Wellness.
I still find it surprising that this series is considered to be on the bubble. Really, what's up with that?! Nevertheless, let's hold tight and hope for the best as we discuss "And Then There Was One."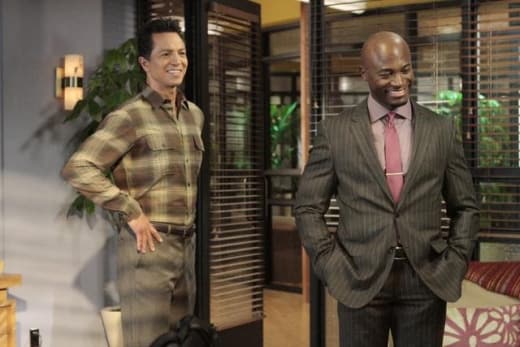 For starters, how amazing was Caterina Scorsone's performance?!? She did a remarkable job in portraying Amelia's broken heart, lashing out at Addison and expressing her anger and jealousy.
Every word was filled with angst and torment as she illustrated exactly how crushed and devastated she truly was. It was a terribly unfortunate predicament for Amelia, and I could feel every ounce of her pain as she knowingly dealt with having to carry her baby without a brain. However, I also felt for Addie; every word also just felt cruel.
Luckily, Amelia was able to find some light in her darkness. After talking to a very distraught father, she realized that she must try her best to stay healthy in order to donate her baby's organs. On another note, I couldn't help but wish that her brother, Derek, would have visited or even just given her a call every time someone was checking up on her and she said she was fine.
This week's medical case was definitely intense, as Violet went with her gut and discovered that a girl stabbed her younger sister multiple times. It was undeniably creepy and strange to hear the teen talk about how powerful she felt and see her fascination for death. I'll admit it was a bit difficult for me to watch; I have three younger sisters. Sure, they've all driven me crazy at times, but I can't say that I was ever anywhere close to the line of craziness that psychotic teen crossed.
Meanwhile, Sam and Jake were at odds in the beginning, fighting over Addie like two school boys. After both admitting they shared a kiss with Addison on the exact same day, they finally realized that it was up to Addison to choose which man she wanted.
I, for one, love that she chose the only one that matters at all, baby Henry. I couldn't help but smile when she said: For the first time, in like forever, I have exactly the man that I want. This guy. (For more awesome lines like this one, be sure to check out our Private Practice quotes section.)
By the way, how absolutely amazing is Addie as a mother? I couldn't help smiling along with both the new mommy and baby in every scene. In particular, my favorite moment was when Addie was talking nannies to baby Henry. Seriously, he was just so adorable and was constantly smiling. I can't wait to see more of these two!
Elsewhere: Charlotte and Cooper were both struggling with a silent Mason. As usual, Charlotte was perfect in her role and was able to get Mason to talk to her. I was thoroughly frustrated with Cooper when he insisted that it was too soon and accused Charlotte of threatening Mason.
It seems like Cooper is always taking Violet's advice when he should be trying to listen to his wife. By the way, poor Mason! I swear that little boy knows how to tug at my heartstrings like crazy. I had to take a few deep breaths after he broke down to Charlotte and admitted that he didn't want to act like everything was normal and had no intentions of talking about his mom.
 
Now, it's time for my favorite part: the Violet Annoyance Scale (VAS). I'm rating this episode a 7 on the VAS. Firstly, Violet has a dreadful baby talking voice. Secondly, the counseling sessions were hilarious to me because Violet's finest qualities were brought to light. She loves to overanalyze and correct anyone and everything.
Then again, Violet deserves some credit as she went with her gut feeling in identifying Missy as the one who stabbed her sister to death. If it weren't for her assistance, I would have certainly rated this episode a 10.
So, what did you think, TV Fanatics? Did you miss Sheldon? What did you think about this week's medical case? Don't forget to return later this week to chime in on our Private Practice Round Table.