If you thought that last week's Ringer was full of surprises, well, that was just the beginning.
"It's Called Improvising, Bitch!" continued the wild ride. I'll admit, Siobhan was a serious bitch to Catherine back in the day. Not only did she steal her husband, she sent her daughter off to boarding school and was about to sell off the house Catherine was living in. Did she kick her puppy too?
No wonder Catherine hated her.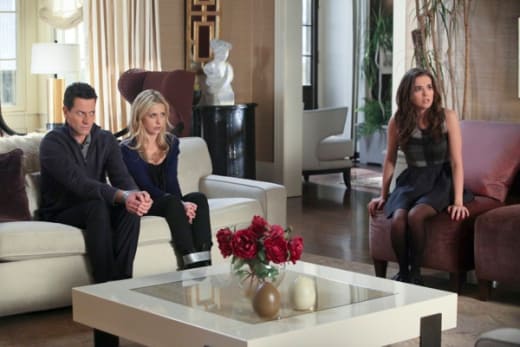 Of course there's hate and then there's crazy, evil, rage. Obviously, Catherine was spiraling into madness as her plans disintegrated.
The episode gave me a lot of just when you think moments…
Just when I thought Andrew had smartened up and smelled trouble, he decided Catherine's only deceit was coveting his whirl pool tub.
Just when I thought Catherine was going to run when Andrew saved Bridget, she came back with a gun and hatched an even crazier scheme.
Just when I thought she'd hide the gun and try to protect her daughter, Catherine dragged Juliet into the middle of her mess even further.
Of course Catherine didn't think she was a bad mother, as she said in one of the night's notable Ringer quotes ...
Catherine: I'm the one who loves her. That's why I kept her busy all day with errands so she wouldn't find your corpse. | permalink
Ah, there's that motherly instinct kicking in. 
With all of this craziness there was one scene that truly surprised me. When Catherine said "Baby, it's me..." and the baby in question was Olivia. Wow. I've been wondering what the heck happened to Olivia but I certainly never expected for her to be Catherine's secret lover / partner in crime.
But Olivia was quick to dump her new love when she realized how nuts Catherine truly was. 
Olivia: After the second hit attempt you said sit tight. So I did but I didn't think that meant you were going to take hostages. | permalink
Somehow the hit man she hired wasn't enough of a clue that the woman was certifiable. It took a hostage situation to get the point across.
Across town Siobhan was having another fun filled day. If bribing a hooker doesn't work, try blackmail. Unfortunately like most of her schemes it didn't go exactly to plan. 
Watching Siobhan doing her labor breathing exercises while watching the couple have sex was comical. Then she got to watch the hooker OD. I'm guessing the john ran and Siobhan just walked out.  I am wondering how much they'll investigate for a dead hooker who died while doing drugs. Probably not much but wouldn't it be fun if there was security footage of Siobhan leaving the scene after the john. I'd love to hear the explanation she'd weave for that one.
And then there's Henry who has become just as two faced as Siobhan, although I could hardly blame him. I'm dying to find out what that paternity test shows. 
So now that Olivia's back, will the ponzi scheme come to light. I can't imagine Catherine keeping her mouth shut although she's certifiable and has no proof so maybe that saves them. Perhaps Olivia could walk right back into Martin Charles, if the cover up continues.
Will Catherine's parting words…
Catherine: Whose life is so pathetic that they have to live someone else's to be happy? | permalink
…prompt Bridget to finally come clean and will she and Siobhan finally cross paths in next week's season finale? We'll have to tune in to find out.
C. Orlando is a TV Fanatic Staff Writer. Follow her on Twitter.