The Amazing Race Review: Does it Get Any Better?

Luke Dwyer at .
If you didn't like The Amazing Race this week, you don't have a soul.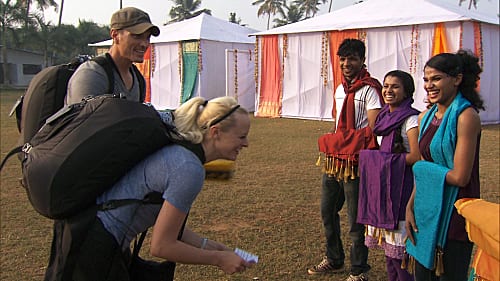 Everything you could ever want in an episode of reality television was packed into this week's episode. Mark and Bopper stole the show with their emotional scene at the Roadblock, but there was plenty more to keep us entertained.
At the start of the season I'm sure many Race watchers decided they didn't like the Kentuckians because they were "loud and proud," to use their own words. In reality, the pair turned out to be everything you'd want in a race team: enthusiastic, energetic, competitive and funny.
Perhaps some of you viewers were still not sold. Maybe some of their culturally-challenged comments or the way they mispronounced some foreign towns made you think they were not very smart.  
Then the good ole boys showed their sensitive side and the number of eyes with tears in them soared.  
I don't know who was more awesome this week, Bopper or Mark. Bopper was tremendous in his never ending positive support for Mark when he was struggling with the dance routine. When it seemed like Mark was not going to be able to complete the dance, Bopper never wavered in his support of his teammate, willing to end the race to spare Mark's health. 
On the other hand, Mark was determined to finish the dance, no matter how far behind the pair fell. Bopper kept telling him it was okay to quit and he refused to do so. Even when Mark feared for his health and then his kids, it was also his children who reminded him that he needed to show them not to quit. He was even rewarded with a "successful" completion of the dance on his 12th and last try.
(Okay, so clearly the choreographer lowered his standards for Mark's last try. Who cares? The point of these challenges is to potentially create some distance between the teams. At that point, they were clearly well behind anyway.)
After finishing the challenge Bopper and Mark still had the Detour to go, but knew they were far behind and figured they'd be eliminated. In typical The Amazing Race fashion we were given a pseudo-eulogy by Bopper and Mark as they talked about what an awesome experience the race had been. Everything was set for that tough moment when our favorite teams are eliminated.
Bopper and Mark tearfully recapped their experience to Phil at the elimination mat while waiting for Phil to send them home. Even the local greeter standing with Phil looked like she was going to cry. What happened next? We'll let Phil bring us home.
You're gonna have to muster your strength because this is a non-elimination leg and you're still in The Amazing Race. This is the second time you've managed to escape elimination.
Cue the excitement! Usually we can see the non-eliminations coming, but I was really convinced this was it for Bopper and Mark. Clearly they believed so too.  Bopper's reaction when Phil broke the news was priceless.  Pil even nailed the moment for once (elimination mat interviews are not his strong point).
Speaking of Phil, I loved the "Phil Presents" format that he displayed for this week's Detour. Phil was hilarious hitting a cricket ball and even funnier driving the rickshaw while trying to explain the task. This is how every challenge should be explained to us in the future.
While we're on the explanation of the challenges, I love what the producers have done with the very end of his explanation when he says that the teams will present the next clue and Phil's local assistant puts forward a clue emphatically. It's corny and cheesy but at this point it's almost a signature of the show and thus awesome. Kind of like Jeff Probst with "the tribe has spoken.
Perhaps it is not always accurate, but I hope all future local clue givers take a cue from the Baliwood choreographer and add the flare he did to giving out the clue. How exciting was it when some completed the challenge and he whipped out the clue in dramatic fashion? 
So Bopper and Mark stole the show from Phil who otherwise had one of his best performances in a long time. What else was there to enjoy about the episode? How about a challenge where being female actually meant a huge advantage over the men?
While it is unlikely that it is intentional, most of The Amazing Race seems to benefits male competitors. A lot of it is physical which nine times out of ten is going to benefit men. The non-physical challenges rarely seem to have a gender slant so there still little advantage to being a woman and racing.
This week, however, the women crushed the men. Dave's Rachel absolutely killed the dance routine. Whether she had danced a lot growing up or not, I doubt she's done much of it recently so I'm sure it wasn't easy for her. Nevertheless, she made it look easy. Rachel looked rhythmic, balanced and genuinely excited to be dance.
Vanessa and Big Brother Rachel needed a few more tries at the routine but still beat out JJ and a far from finishing Mark. Perhaps they didn't match Dave's Rachel's dominance, but both looked very comfortable by the time they completed the routine and certainly did a better job than JJ or Mark.
Last but not least were the two awesome Detour options. Often the race steers people to the "more fun" challenge by making the other option long and arduous.  This week both options were awesome. If I were on the race, I'd want to be U-Turned so I could do both. When are you ever going to get the chance to hit a cricket ball or drive a rickshaw?
With so much discussed I don't have anything left for the "more form this episode" ending to the review, do I? This isn't the greatest episode in several years for nothing!

More from this episode:
Bopper knows Mark is going to vomit when he gets in a car. Why would Bopper then choose to sit behind Mark on the awful bus ride to Theyra?  Seemed like a perilous position to be if Mark decides to lurch out the window.
Not only was this one of the best episodes ever, it was one of the least terrifying India episodes ever. Longtime race watchers know India is by far the most challenging country for the racers. This group may not be done with the country, but so far they've gotten off easy (Mark might disagree).
Art was killing it with Amazing quotes while JJ was attempting to dance.