Ah, so now the whole Alexis thing makes a little more sense.
I was perplexed as to why Cathy was going by this moniker on The Big C season premiere, but events on "What's Your Story?" made it a bit more clear: this woman is going through a major midlife crisis.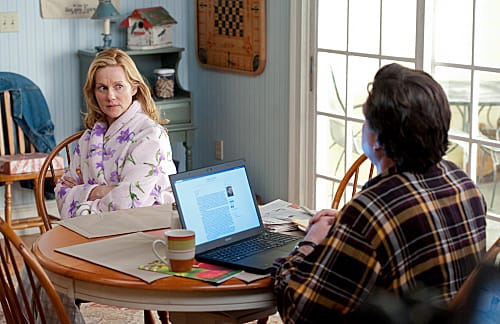 It makes sense, too, although it may seem counter-intuitive for someone who just learned her tumors are shrinking. I'm fortunate enough to have no real experience in this area, but I'd imagine it's similar to Postpartum Depression; or, on a much smaller scale, but one to which I can at least relate, to post-marathon running.
You build up this one event so much in your life that it comes to define you. Even something negative such as cancer, it can make you feel special. It can give you a purpose in life. It can motivate you to act like you've never acted before, something we know Cathy has gone through, especially throughout season one.
Take it away and you're left with... what? In many cases, hopefully, sheer happiness over more time to spend with your loved ones. But in some cases, perhaps? A sense of lost identity. Who is Cathy Jamison if she isn't Woman Dying of Cancer?
The answer, for at least an hour or so per day it seems: Alexis, a pretend flight school student who gets tattoos and drinks martinis.
It's a story Cathy has conjured up, but it must offer her some kind of relief or relaxation when compared to her real story, which is comprised of an affair; a recovering husband; and, as she told Adam in a scene that made me squirm on my sofa, many past incidents of unruly or dangerous behavior.
Cathy really does not want to be herself right now, making her the polar opposite of Andrea. (Sorry, I'm not gonna try and figure out how to type Ababoo.) I can't say I'm too into this storyline. It feels a bit forced and... weird, doesn't it? Those three black students want into detention and Andrea figures the basis for their actions must be related to some kind of unfamiliarity with their race? And it's her job to connect them to their African roots? That's a tad presumptive and hard to believe for my taste.
Most of Sean's storylines are hard to believe, as well, but at least the show has toned him down a lot from season one. He was a caricature who lives outside back then. At least now he just seems more like a man with unusual, extreme morals. Although they apparently do not include faking homosexual phone sex for $4.99 per minute. How good must Willie have been at that job for the dude to keep calling even when the line was disconnected?!?
Finally, we arrive at Adam. I feel terrible for the kid. He was never that popular at school to begin with and it's gotta be downright gross to imagine both your parents having affairs. But at least he now as a bible study group and I appreciate the simple way The Big C dealt with it; nothing too over the top, nothing insulting to those within it, no mocking involved, which could have been an easy, lazy crutch on which to land. Religion is a tricky topic for any series to handle, but so very early, so very good here.
What did everyone else think of the episode?
Matt Richenthal is the Editor in Chief of TV Fanatic. Follow him on Twitter and on Google+.