The Finder took an interesting and unexpected turn this week when Walter found himself being chased by the mob as he tracked down a missing chef. Lucky for Walter and friends, it wasn't "The Last Meal" for any of them.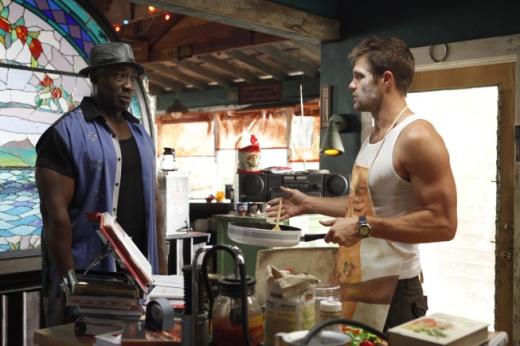 I think we learned two valuable things this week:
Walter has some skills in the kitchen, especially when those skills require him in the kitchen in a wife-beater.
He really will laugh in the face of danger. Did he really give away to Velasquez that Isabel was looking to call for help?!
This episode was pretty interesting from the very beginning. I can't believe Walter got arrested. But I have to say, if there's anyone who can pull off that orange jumpsuit, it's Walter.
One thing is for sure: Willa most certainly cannot.
What on earth was she doing getting her WWE on with that girl? That was some pretty rough fighting going on there! While we can be proud of that, we certainly can't be proud that it got her arrested. I can't believe she chose to call Timo instead of Leo! I get the family business thing I guess, but she seriously has to get over getting into fights. She's too old for that.
I would hope she learned her lesson, especially since Christina prevented her from being bailed out. I thought the had reached an understanding and were on amicable terms now? Maybe this episode ended up airing out of order and was really supposed to come before they made headway in their relationship?
All I know is, I was a little disappointed at the backwardness of it all.
Speaking of backwardness, did I miss where Walter and Isabel were not a couple? This is the problem with the whole "friends-with-benefits" thing. You never really can tell where a relationship is at when that happens. I thought Isabel and Walter had taken some time to talk things out and that they were more exclusive, like a real couple such that it could end up in marriage.
I'm not saying I want it to hit that point just yet. I just wish everyone would make up their minds about their relationships with the people around them!
That said, it was nice to see Willa, Isabel, Leo and Walter around a table together, even if there was a gun-swinging mob boss at the head. It definitely made things more interesting for a while. Who knew it could be resolved with a paper napkin contract? Joe being a notary was simply a convenient plus!
How do you feel about these ever-changing relationships? Do you think they will ever straighten themselves out?
C. Charles is a TV Fanatic Staff Writer. Follow her on Twitter.