The main premise of "Angry Andy" was a smart, if extremely late, idea. Get rid of the Andy Bernard we have been forced to watch in this season of The Office. He has been lame and has never very funny.
Bringing back his anger management issue was a pleasant change of pace for a character that desperately needed something different. Will this be a permanent fix for the character and/or the series? Probably not, but it worked for this half hour.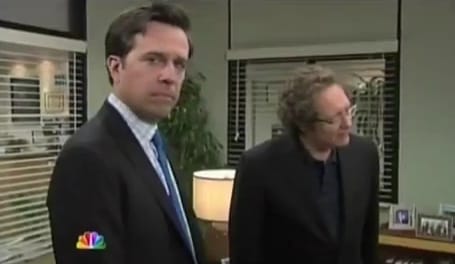 Andy from the rest of this season would have taken the beating from the conference room impotence meeting, letting it roll off his back. That wouldn't have been nearly as entertaining as watching him yell and scream, throw things and finally punish the wall in the exact same spot he did back before his first stint in anger management.
I'm not saying this was comedy gold, it was just an upgrade from the disasterous arc Andy and Erin were going through up to this point in the season.
Do you know what WAS closer to gold? B.J. Novak. I know many of you aren't on my Ryan bandwagon, but this week proved yet again that Novak can handle a larger load. If Creed or Nate* were to be given as much material as Ryan had this week, it might be over doing it, but the layers to which Novak plays the character bring more and more laughs with each sentence he utters.
*Nate is becoming Creed 2.0, as his preference for Ravi to Ryan without ever meeting the former was absolutely hilarious.
Between his blatant jealousy of a man stealing the woman he honestly can't stand, the constant need for attention, his lavish gesture on the horse, and the subtle remarks about the probability of cheating on Kelly while professing his love for her, Ryan Howard was extremely entertaining this week.
Pam throwing water on Ryan's flame for Kelly was a nice addition, especially when it ended in boos and hisses when she saw him on the horse. The main question has to be: why bring Sendhil Ramamurthy in for one scene? He was good in it, but he seems more like someone you bring in for a multi-episode arc.
"Angry Andy" also gave us the great physical comedy of Kevin in Andy's sweater, Nellie refusing to leave her post as manager that she somehow snaked her way into and the brilliance that was Dwight Schrute reporting meaningless information back to Nellie.
It was certainly an improvement on last week's episode, but was it enough to bring The Office back to comedy relevance? What did you all think of the half hour? After checking out the best lines in our The Office quotes section, come back here to leave your thoughts in the comments.
Dan Forcella is a TV Fanatic Staff Writer. Follow him on Twitter.