Two more contestants had to leave The Voice on Tuesday. Did it go down as you expected it would? Let's take a look at what happened on the most recent installment of the NBC hit's live results show.
The Wanted performed with Team Blake I hate that not only do they give the team members nothing to do in these guest performances, but they wait until the last 15 seconds of the song to even bring them out. It is so incredibly worthless.
The Biebs was in the house! He had the Zack Morris haircut from that one episode where the gang becomes a huge rock band, and his pants were around his knees so the world premiere of his music video "Boyfriend" was the last thing we should have been talking about.
Oh yeah, there were also results!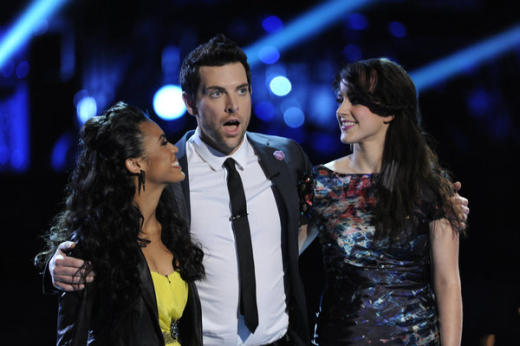 Team Xtina
America picked Chris Mann, so he is moving onto the Semifinals! Ashley De La Rosa and Lindsey Pavao then had to sing for their lives on The Voice.
Ashley De La Rosa - "You and I"
She just keeps getting better and better. Those notes in the chorus are not easy, and she hit every one perfectly. Ashley proved that she belonged, but would it be enough to beat out Lindsey Pavao?
Grade: A-
Lindsey Pavao - "Please Don't Go"
This might have been the perfect song for Lindsey to choose. It was so soft that it fit her quiet tenderness amazingly. She was able to show off her versatility and range effortlessly, but I'm not sure the voice held up against Ashley.
Grade: B+
As big of a fan as I am of Lindsey and her artistry, I still would probably choose to keep Ashley based on how incredible her voice is. But who did Christina choose?  After much deliberation, and a lot of crying, Christina saved Lindsey Pavao! 
Team Blake
America picked Jermaine Paul as their favorite from Team Blake, and he's moving onto the Semifinals. RaeLynn and Erin Willett then had to sing one more time.
Erin Willett - "Proud Mary"
She chose "Proud Mary?" Unlike Lindsey Pavao, I feel like Erin's biggest issue is portraying to us who she is as an artist. She keeps going back and forth between current and classic songs, and it's causing her to miss out a bit. This was performed well, but I'm not buying her album.
Grade: B-
RaeLynn - "If I Die Young"
Now this girl knows exactly who she is, and so do we.  Sometimes she may be a little too RaeLynn, and she was almost in danger of that here, but it's still better than being forgotten. Other than maybe missing one note near the end, she did great with this song. If she can continue to mix her cutesy voice with the occasional growl, I'm on board.
Grade: B
Erin is a great singer, but her inability to carve out a niche would have me choosing RaeLynn. Given how much I disliked the country hopeful in the round of 24, that's surprising even to me! It was up to Blake Shelton though, and he picked Erin Willett!
So there you have it TV Fanatics, Chris Mann and Lindsey Pavao are moving on to the Semis for Team Xtina, while it is Jermaine Paul and Erin Willett for Team Blake. Do you agree with America and/or the coaches? Let us know which elimination makes you angriest in the poll below...
Dan Forcella is a TV Fanatic Staff Writer. Follow him on Twitter.