Inspired by Ava's heroic completion of her own 10K run, I pledge to finish my review of tonight's episode, "Hey Jealousy," no matter how ugly I look!
Reagan and Chris have set an amazing pace of laughter all season long, but this evening - as we continued to near the finish line of Up all Night's inaugural season - they showed us that they still have plenty of gas in the tank and miles to before they sleep.
Ava and Shayna looked like they were hurting pretty bad at the race's starting line, nursing hangovers from their late night party with the silver fox asian men. After reading a Tweet from Christina Applegate, though, about how my new favorite comedy has yet to secure a second season, I felt way worse.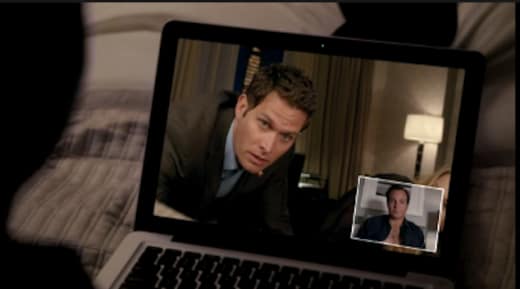 I have enjoyed each episode this show has produced and tonight was no exception. Bolstered by the amazing guest star talent of Will Forte, Fred Armisen and Megan Mullally, Applegate and Will Arnett once again delivered a great half hour that played on the very real, yet extremely funny aspects of married life, mixed in with the over-the-top hijinks of Maya Rudolph's character Ava. 
The talk show host and her industry rival Shayna played a hilarious game of temptation, which anyone who has ever been on a diet could appreciate and enjoy immensely. When things transitioned to the absurd - meaning the entrance of the silver fox asian men and Gideon the trainer - I found myself laughing even more. When it comes to such scenes, I am guilty of an overly dramatic eye roll now and again, but when they all began belting out Don Henley's "The Heart of the Matter" I was the one seeking forgiveness for my obnoxiously loud laughter. 
This scene - which featured a couple of the week's best Up All Night quotes - was matched and surpassed in its hilarity by Chris's conversation with Luke before the race. He bragged to his wife's coworker about the size of his nipples all while lubing up those silver dollar pancake manhole covers.
Another aspect of the show which has consistently contributed to the overall comedic value has been all the little details mixed into scenes, such as the reappearance of Reed's red leather jacket tonight or Missy's tennis skirt running attire. Chris was, of course, wrapped in the space blanket after the race. Such gems are small but priceless as they are so very much in keeping with the characters we have been introduced to and come to love.  
While Reagan forbade Chris from drinking wine at play dates, hopefully the execs at NBC will have some and lighten up when the time comes to decide the fate of this sitcom. The cast is so loaded with talent, but they have come together like some comedic Voltron and have been slaying me all season long. Here's to not only a second season but many more. To quote the ever classic Chris, come on NBC... "do the math!"