Now that baby Christine has entered the world, is marriage next on tap for Booth and Brennan?
That's the million-dollar question, and in order for it to happen, Brennan will have to soften her staunch anti-marriage stance before there's any question-popping to be done - by either half of the Bones tandem.
Then again, it's not as big of a stretch as it once was.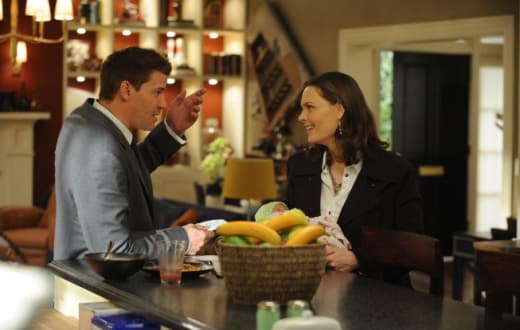 Emily Deschanel tells TV Line that her alter ego may slowly be coming around to the idea. "She's always been against marriage – at least for herself – and has seen no need for it," the actress points out.
"But maybe after having a child it will become more important to her. You saw her wanting Booth to ask her, but Booth putting it back in her court. It seems she may consider it now."
Deschanel adds that she "absolutely" believes Brennan is capable of doing the proposing herself, as Seeley implied she should. "Brennan would be fine asking a man if she felt that was a rational thing to do," she says.
What do you think? Will it happen this season? Or next? Or at all?
Steve Marsi is the Managing Editor of TV Fanatic. Follow him on Google+ or email him here.