30 Rock Review: I Now Pronounce You Divorced

Dan Forcella at .
Television shows, especially sitcoms, normally lose some of their luster as time goes on. Whether it be that the series actually gets worse, or simply our perception of it does because the novelty has worn off, more often than not, things are not going to be the same by season six.
Because of that fact, 30 Rock should be commended for how good its sixth season has been. There have been misses like Hazel Wassername, and big hits like the second live show, but all in all, this spring has been a solid run for the veteran sitcom.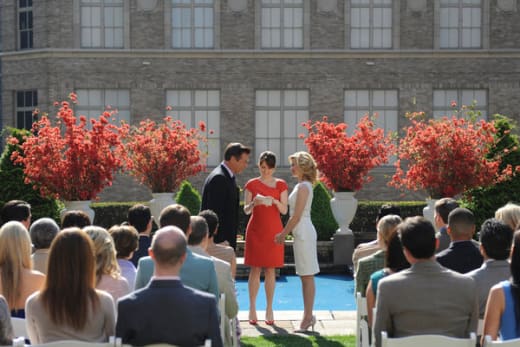 Unfortunately, "What Will Happen to the Gang Next Year?" wasn't one of 30 Rock's better outings. The season finale had some one-offs that were nice enough, like the different things Liz's plant baby was up to, the fact that Criss has seen everything The Beek has done except Dawson's and Kenneth's reasons for calling people he likes bitches.
There were very few truly hilarious moments, though, and that is what we usually look for in a great episode of 30 Rock. For a season finale, this was pretty underwhelming. There was too much Hazel, Jack and Avery weren't at their best, and Jenna and Tracy were sidelined a bit too much.
It was good to see Jack and Avery divorce before heading into next year's final run. There wasn't much more story to tell there, and they had to leave room for the inevitable push by fans to cheer for a final Jack/Lemon get together. Let me stop you now. It ain't happenin'.
Before taking off for the long off-season, check out some of our favorite lines from the season finale below and then head to our 30 Rock quotes section for the rest.
When you get back, sound off in the comments about what you liked, what you didn't like, and who is a better role model; Rosa Parks or Tyler Perry.
Liz: Hey, I don't bail. I am still watching Smash, Criss. | permalink
Jenna: Oh, poor baby. Can't hack it in the big city? Gonna move to the bay area now, pretend that that was your dream the whole time? Have fun always carrying a light sweater. | permalink
Kim Jong Il: I'm greatest waiter of all time. | permalink
Jenna: I played Avery Jessup in Kidnapped By Danger, now available on Sega Genesis. | permalink
Dan Forcella is a TV Fanatic Staff Writer. Follow him on Twitter.