Summer 2013 is looking to be a big one for Brennan, as "Bone of Contention" will finally hit the big screen. This week, however, it almost shut down production when a real body turned up on set.
"The Suit on the Set" made for quite the entertaining hour on Bones.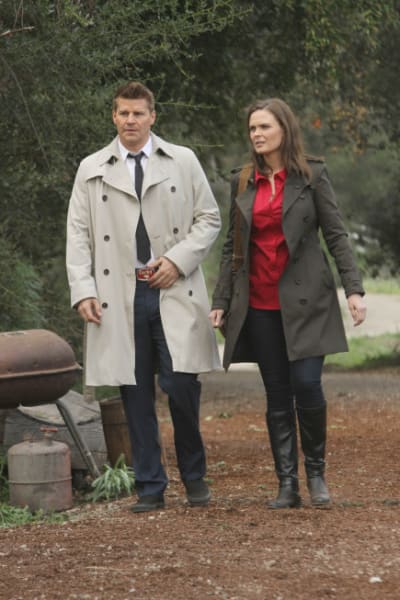 I have to say, when I saw the trailer and interview at the very beginning, I wasn't quite sure we were even talking about Brennan's books. The alien-looking aircraft and large explosions were enough of a satire on current trailers I almost felt a little embarrassed.
I think that feeling only got multiplied when I realized just how silly the lead actors were.
Lucky for us, there is nothing silly about Booth and Brennan and the epic work they do in their reality. For that, I think we can all be grateful. I won't lie, however, I do feel bad for Brennan, who no doubt seemed more than displeased with the script's lack of attention to detail. Directors really should care about those kinds of things. They look amateur when they don't!
As for Hodgins' ambivalence towards the film and its characters: One minute he's jealous of the state-of-the-art appearance of their make-believe W.I.S.K headquarters, the next he's ready to jump in as an extra. I especially enjoyed his skepticism of the actor playing his part. They really did seem to bond a little bit by the end.
And who would have seen Cam's film past coming to the fore? Invasion of the Mother Suckers? Oh, my...
It definitely had '70's written all over it. You couldn't help, though, but draw some rather ridiculous but true parallels to the vampire lore of today.
The one thing I don't think I saw coming, despite all the twists and turns, was the obsessive gardener being the baddie. I think Bones has started to revert to that pattern of making the killer the first-person-you-saw-and-first-you-forgot-about tactic. I've seen that before. While I know it can get hard to write new episodes, especially eight seasons in, but please don't make it a habit.
Speaking of originals, it seems Christopher Pellant, a true original villain of the tech age, will return next week for the Bones season finale. Can you believe, despite the desperately long hiatus, that the season is coming to a close? It feels like we just got back in the swing of things!
Other highlights from the episode:
The studio mogul being named Hanson Stevens. No, that's not obvious... at all.
Hodgins and Angela tracking down the last existing copy of "Invasion of the Mother Suckers."
Dr. Filmore informing Brennan that their time together was a competition.
Brennan taking issue with the inconsistencies of the script.
Donuts that we'll never get to eat, but which Booth couldn't seem to get enough of.
The Jeffersonian team making the promo for "Bone of Contention," even if it does appear they got blown up.
Can you believe the finale is upon us?!?
C. Charles is a TV Fanatic Staff Writer. Follow her on Twitter.