Community Season Finale Review: Destroying the Darkness
Matt Richenthal at .
When Dan Harmon conceived "Introduction to Finality," he may very well have believed it was the final Community episode he would ever write.
And, even with Community renewed for a fourth season (Boo-yah! Good job, NBC), Harmon may be correct, considering his contract is up and no new deal has been signed at this time. It's a depressing thought, but it also made for a pitch-perfect season three finale, one that could easily have served as a series finale - and may wind up serving as a Harmon finale.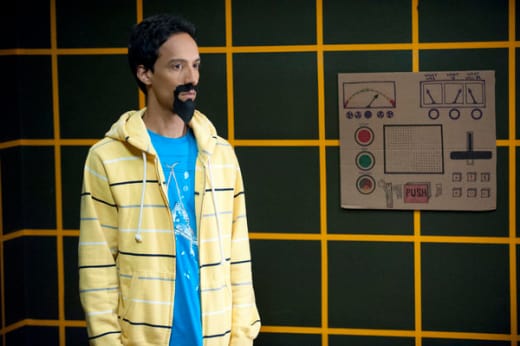 We concluded with yet another inspirational speech about friendship from Jeff, but this one felt far more sincere and far less self-involved than his past attempts to fire up the group, which were often with some self-serving goal in mind.
We watched Britta gain acceptance as a psych major, while Abed actually admitted he needs help.
We witnessed the evolution of Troy, who started the series as a fun-loving, immature young man child and ended as, well, the messiah of air conditioning school. Yes, this still is Community, but even within the confines of that ridiculous concept, we really did see Troy save another man's life and actually be the one to tell others: play time is over. Stop being weird. That dude is a murderer! Take him to the police.
Pierce found a successful business and stopped using gay as a derogatory term; Shirley gained the self-confidence to join him and Jeff actually looked up his father online.
Yes, all of our characters (save Annie, really, but she's just so darn cute and hilarious that she can just stay cute and hilarious) found themselves in a better position when the episode concluded. They destroyed the dark timeline. The only concern now is whether Community will be able to say the same next season if Harmon isn't at the helm.
(And this Harmon Tweet from tonight isn't exactly encouraging: Thank you for supporting Community through its December. I owe you all for making the most satisfying project of my life possible.)
But I can't end our final Community review of the season on such a down note: "Introduction to Finality" brought the funny!
Britta thinks X Man is a superhero. Shirley considered selling her son for a chance to bump it with Denzel. Annie insulted Dance Moms as the reason for everything being terrible in the world. And, come on, our Community quotes section is forever highlighted by Abed saying this:
You're VH1, Robocop 2 and Back to the Future 3. You're the center slice of a square cheese pizza. Actually, that sounds delicious. I'm the center slice of a square cheese pizza. You're Jim Belushi. | permalink
Seriously, no furths, TV Fanatics.
NOTE: For our other Community reviews from the night, read through Dan Forcella taking on "The First Chang Dynasty" and Leigh Raines tackling "Digital Estate Planning."
Matt Richenthal is the Editor in Chief of TV Fanatic. Follow him on Twitter and on Google+.