It was rather clear when watching "My Life/Your World:" The Cougar Town cast and crew didn't know whether this would be a season or a series finale.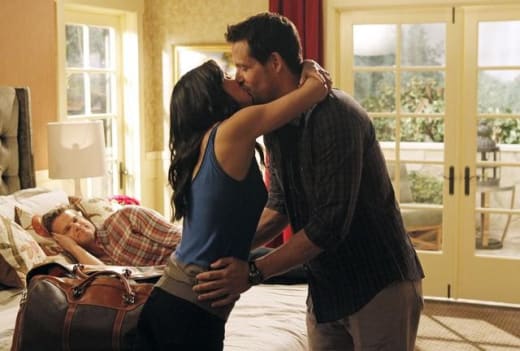 There was a definite sense of closure throughout the hour and it ended in probably the most satisfying way possible with Jules and Grayson having their dream wedding and riding off in the sunset surrounded by the people they love (including Chick and his horse).
Thankfully, we can all breathe a sigh of relief since Cougar Town is making the leap to cable over on TBS! Which is good because I would rather not cut down on my weekly dose of wine.
A few of the show's neuroses were touched upon and talked about here, courtesy of Jules' Groundhog's Day reenactment and Penny Can. Of course, Jules' crazy is never contained to just one aspect of her life, but it is nice to see the show acknowledge that some of her quirks are pretty out there. It also keeps Jules and Grayson from heading towards boring couples-ville.
But there are a lot of layers to play with because Grayson should know what he's marrying into. He's been one of the people who comes by Jules' house to hang out at all times of the day. How much alone time can he possibly want?
Or was it all just a ploy to set up Jules being turned on by his anger?
There's also Ellie's lust for Daniel, the hotel concierge. His willingness to do anything and everything to make Ellie happy was the perfect excuse to make her infatuated with him, even after he's arrested and in jail.
Finally, we had the simmering of Laurie and Travis. I'm all for it if they do decide to give it a try. The age difference among the characters doesn't bother me, and watching Travis make a fool of himself and begin to immerse himself more and more into the crew is a good thing for his character.
It's just too bad after all of that Travis still got his heart broken, as Laurie's boyfriend made an appearance in the flesh to visit her.
The only problem now is where do things go? Cougar Town won't be making its debut on TBS until early next year, and the show's stories have, for the most part, been book-ended. There's always more to mine, and the series doesn't exactly need a lot to get going and be one of the funniest comedies on television, but part of the appeal is watching the gang grow as characters.
I suppose that's just how Cougar Town is used to operating. Each season has closed the book on the stories told that year without a reliance on shocking the audience or attempting to hook them in with wild stories to tune in for the next. Instead, it falls back on building strong, likeable characters with problems that are both funny and real.
We'll see you again in 2013, Cougar Town.
Other thoughts:
Generational Penny Can.
Who knew Dog Travis could hold so many balls in his mouth?
Only Chick's horse can keep him from crying?
Co-creator Bill Lawrence reprises his role as a cop from the pilot (yet another bookend).
Jules' complete and utter confusion over the Groundhog Day plot.
It looked like Jules was about one second away from disowning Travis when he said he wasn't a big fan of wine.
What did you think of tonight's Cougar Town? Let us know and head over to our Cougar Town quotes page to see some of our favorite quotes from tonight's finale!