There wasn't a lot to cheer about this week on Game of Thrones and even "The Prince of Winterfell" was overshadowed by his sister which, let's face it, isn't hard to do.
TV Fanatic's official review, by Matt Richenthal, breaks down "The Prince of Winterfell" in detail. There was plenty of deviation from the books, and in my latest edition of A Novel Approach, I examine how that worked (or didn't).
Be warned: Spoilers are ahead...
The deaths of Bran and Rickon were the catalyst to two things in the books, Robb falling in love (or having sex) and Catelyn releasing Jaime with the hopes of at least retrieving her daughters alive.
However, word hasn't even reached Robb's camp yet and the play has begun. That seems okay to me for a couple of reasons.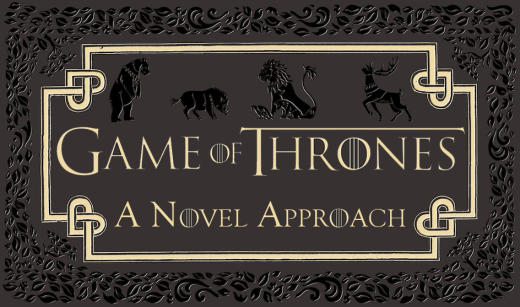 First, Robb deserved to fall into love in a traditional manner, and he has done that with Talisa. I wish the production crew would remember women watch the show as well as men, and show a bit of man ass instead of fully naked women on top of partially clothed women. Just sayin'.
Second, Jaime needed to remain active in the second season and moving things forward a bit faster did just that. Plus, the relationship between he and Brienne was very engaging in the books and I look forward to seeing it played out on screen.
I'm unsure as to why they even bothered with the three minute Dany scene at the end. Especially since Jorah had the gall to tell her to leave her dragons behind. Who is that man? He's certainly not the Jorah that unwaveringly supported Dany in the novels. Without her dragons, Dany is just a girl. He, most of all, would know that. Two episodes to go and we haven't gone into the House of the Undying yet. I'm sticking with my guess that if we do, she'll walk in a door, and come out with Drogon on her shoulder, "saved" by him. Story shredded.
Still stumbling along the snowbanks, but at least Halfhand is trying to let Jon know that he is going to have to kill him to prove himself to the wildlings. Jon doesn't seem to understand what is happening, quite yet, but Ygritte does. The scene was too short to explain much if you didn't already have the background knowledge behind you done by reading.
They Tyrion and Bronn scene was played just beautifully. It was a case of not giving a hoot of whether it was from the books or a script because it was so incredibly entertaining. They seemed like they were married and it's how I always imagined they would act. But, this Bronn is much more intelligent than the street smart Bronn of the books. I loved that he corrected Tyrion's pronunciation of a name and they continued on as if were normal fare. Brilliant scene.
Jaqen and Arya also played out very well, "A girl has no honor." She wanted so badly for him to go after Tywin, knowing it she had waited too long, that she named Jaqen himself. The look on his face was priceless and that he would have considered it tells a lot of his honor. 
Finally, Yara's character was given artistic license in her conversations with Theon but they were well worth the telling. Bringing up his actions as a baby especially pleased me, as did her argument that killing the Stark boys when they were the best cards they had was lovely. Anything to make Theon look like the idiot he is works for me. One thing I didn't notice, does Theon know his men didn't kill the actual Starks or is he still in the dark?
Share your thoughts, as I know you will, in the comments, and let us know what you are looking forward to seeing in the last two episodes. 
Carissa Pavlica is the managing editor and a staff writer for TV Fanatic. Follow her on Twitter.