There was simply no way to open this week's episode without picking up where we left off after last week's verbal assault from Hannah's diary.
As you recall, Ray and Charlie used Hannah's journal to humiliate Marnie at their show, leading Marnie to toss a drink in her best friend's face. In "Hard Being Easy," Charlie made Hannah reread the passage aloud to both him and Marnie because he wanted to hear the painful words come from the author's own mouth.
Marnie is as pissed at Hannah as she can be without going overboard because, after all, Hannah was just being honest. It wasn't Hannah's place to discuss her relationship but it especially wasn't Ray or Charlie's place to read Hannah's journal. That's the bottom line. In my opinion, Hannah kind of did Marnie a favor. Marnie and Charlie's relationship is purgatory.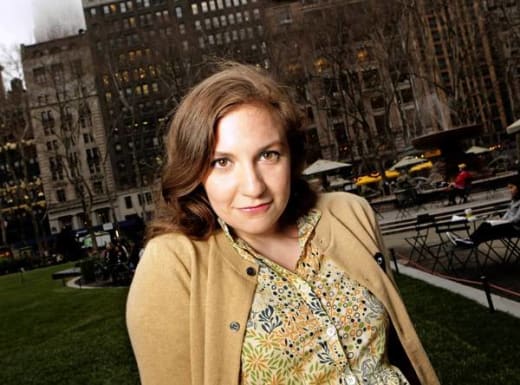 This episode focused a lot on Marnie and Charlie's relationship, which could be one of the most boring relationships I've ever seen, despite how realistic I find it to be. Maybe their "should we or shouldn't we" breakup talk was so blah to watch because it's something I've been through before and simply have no desire to ever relive.
As someone who has been in Marnie's position, nobody can tell you to break up with someone when the only problem is that you've fallen out of love. It's such a miserable-seeming excuse for ending a relationship. You just have to figure it out on your own. Even Charlie knew it was time. He was just being old fashioned with the whole "I picked you, I'm sticking with it" mentality.
I have to say, that sex looked so suffocating and wholly unappealing. A lot of people have been making comparisons to Girls and Sex and the City and as something who can quote SATC offhand (yeah, whatever) I see why people want to do that, and although they are told from completely different generational aspects there were some old Sex and the City quotes that popped into my head when watching this show.
For instance, "sex is not a time to chat." Charlie, sex is not a time for therapy. I'm all for open communication, but perhaps hold off on the daddy issues for when you're not in the middle of having sex with your girlfriend and begging her not to leave you. These two needed to call it quits. Marnie needs to stop being selfish and scared.
On the other end, Hannah is so out of her gourd. Why would she ever try and sleep with her boss? Why?!? She threw herself at him in a dress made for a toddler no less. The only thing that would've made it more ridiculous were her eyebrows from last week. I need to see Lena Dunham rocking those at all times. The whole scene with her and Adam was awkward and uncomfortable. It also seems like no matter what route she takes with him, she'll never be happy. No approach is the right approach. At least she can call herself out.
Possibly my favorite Hannah quote this week was when she shouted at her boss, "I just tried to f*ck you, sue you, and extort you. I'm f*cking nuts! Why would you want me in your office?" For more lines, go read our Girls quotes.
Jessa and Shoshanna were backburner. Why Jessa would ever use her employers lipstick is beyond me. Jeff the dad is jonesing pretty hard for her, as was San Francisco guy who got the full Pretty Woman treatment. She'll bang him, but no kissing on the lips! I'd say Shoshanna is slightly less virginal after witnessing that romp in the flesh. What'd everyone else think of this week's Girls? I was a little underwhelmed. Hit the comments!