Secrets, secrets and more secrets were what it was all about on last week's Gossip Girl episode, "Raiders of the Lost Art." Serena was keeping secrets from her friends, Jack's keeping secrets from Chuck, and Blair ... well, it's no secret she doesn't love Dan, so the cat's out of the bag.
Blair takes the cake in this G.G. fashion recap with her Diana Payne attire; that is all. Tonight's "The Fugitives," the penultimate episode of Season 5, is going to be a goodie, that's for sure.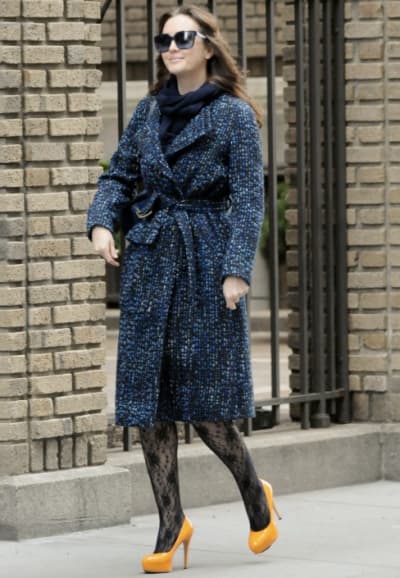 Oh, Blair. We know a schemer when we see one, and that girl, the one in the tweed coat and the bright pumps ... that's a professional.
Actual Heels: Brian Atwood Maniac Pumps
Steal Heels: Alice + Olivia Devon High Heels in Orange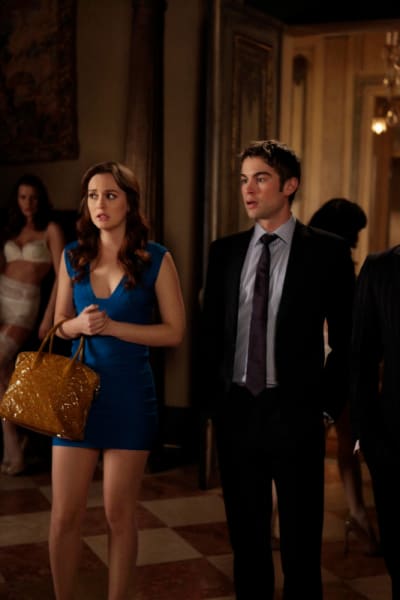 If you want to get to the root of Diana Payne you have to become her, so Blair thought. She had jaws dropping everywhere as she descended the stairs of her penthouse in a skintight blue band aid dress, especially Chuck's.
Actual Dress: Herve Leger
Steal Dress: Pleasure Doing Business Dress
Looking so studious with her oxfords, Serena totes around her Gossip Girl laptop while doing some sleuth work. The only question is, which side is she on? 
Actual Oxfords: Repetto ZiZi Oxford Flat
Steal Oxfords: J Shoes in Device
Actual Bag: Marc by Marc Jacobs Dreamy Commuter Bag
Steal Bag: Marc by Marc Jacobs Pretty Nylon Computer Commuter
Actual Scarf: Theodora & Callum Orange Multi Scarf
Steal Scarf: Lauren Moshi Tribal Scarf
Chic in cream with a bold pop of yellow as Chuck ushers her in to a limo. Just like old times, eh B? We love it!
Actual Bag: Louis Vuitton Monogram Fascination Lockit Bag
Steal Bag: Marc by Marc Jacobs M Lady Croc Top Handle