Warning: I am about to unfairly compare Longmire - a new drama on A&E that stars Robert Taylor in the title role and premieres this Sunday at 10 p.m. - to Justified.
Yes, I have reasonable cause to do so. Both are set in rural areas and both feature serious lawman who wear a cowboy hat. It's nearly impossible to watch a Longmire trailer and not think of Raylan Givens.
But Longmire has aired one episode, Justified is one of the best shows on television and the comparison mostly falls apart after the initial set-up.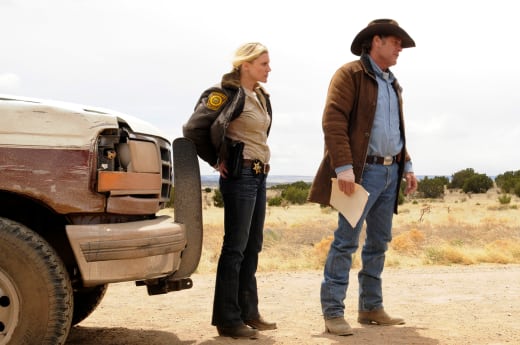 Taylor's Walt Longmire is no Givens. Whereas the latter oozes charisma and sarcasm, the former has been grieving the death of his wife for about one year (the pilot is centered on the anniversary of her passing) when we meet him.
Already old school (Walt doesn't own, or really understand, a cell phone) and all-business in nature, Longmire doesn't seem like the kind of sheriff who ever made small talk with his colleagues. But he's been especially dour since losing his wife, as well as especially absent.
Notes Bailey Chase's Branch, an officer with high career aspirations, when Walt chooses to drive 10 hours round trip to notify a woman of her new status as a widow: the sheriff "hasn't done much in a while."
We watch him grow a bit reinvigorated throughout the episode's main case, which involves a missing Native American teenager, a mobile brothel and which, to be honest, isn't all that fascinating. The final reveal of the key culprit isn't all that shocking, either, to anyone who watches any number of procedurals out there.
For that reason - because the premiere, at least, doesn't play out much differently than a regular CSI or NCIS episode - we need Walt to be an engaging, interesting character. And he simply isn't. He's understated and quiet, responding to a co-worker at one point who asks what he's doing staring into the distance with:
"Thinking. I do that sometimes before I talk."
It's Walt's funniest line, and it's a quality I admire in a human being, but it doesn't make for a particularly riveting lead character.
Do supporting players Lou Diamond Phillips (as Walt's best friend) and Katee Sackhoff (as a deputy who has been out West for six months, respects Walt and may have some connection to him we'll learn about later on) assist in the personality department? A bit. They'll certainly need to going forward if Longmire is to really hold my interest.
For while it's beautifully shot (the Wyoming countryside is practically a character onto itself) and well acted (Taylor is a man who knows how to cry), nothing about Longmire really stands out. It's not gripping or suspenseful or funny. It's reserved and restrained and peaceful.
It's certainly not bad, I'm all for slow-building character studies, but none of the storylines that played out on the premiere, nor any of the arcs teased for future episodes, made me scurry to my remote and set my DVR for Series Recording. I'll need more unique, engaging cases and more personality all around to keep Longmire on my summer viewing list.
Longmire airs Sundays at 10 p.m. on A&E.
Matt Richenthal is the Editor in Chief of TV Fanatic. Follow him on Twitter and on Google+.