Mike and Molly finally tied the knot! But we all knew it wasn't going to be without a few more snags along the way.
Just about everything went wrong for Molly in "The Wedding" - her hair was a disaster, the limo was towed, Victoria's car broke down and the list goes on. I know I have a few disaster stories like that (my high school graduation springs to mind), and I bet you can relate, too. Things are bound to go awry at a such high pressure, high stress events.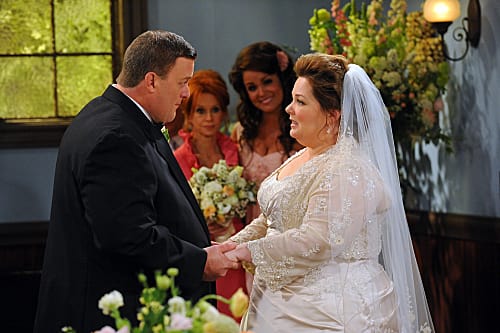 As usual, Victoria was there for her sister when she really needed her. And, as usual, Victoria was there in her own unique way. Hitching a ride in a fry oil-fueled car was definitely not the dream trip to the altar Molly had planned, but it's a nice touch of irony to the day.    
Meanwhile, Mike tries to keep Carl from proposing to Christina at the wedding. Professing his love to her didn't go over so well last week, so of course Carl thinks the next logical thing to do is ask her to marry him. Luckily, he popped the question backstage before the wedding had even started. After this, though, Carl and Christina fade into the background, which is regrettable considering their storyline could have been an entire episode in itself.
Still, we find out that Christina actually does love Carl, even though she doesn't want to marry him just yet.
With just one allusion to last week's turmoil, Joyce and Vince also remained on the periphery on the finale. I'm not sure if Vince's mistake will be brought back next season, but it seems too big to just sweep under the rug.  
We also discovered that Peggy and Jack's rekindled romance was just a set up for Peggy's sweet revenge. I can't help but think he deserved it.
Mike & Molly's second season ended with the bride and groom saying their vows, which were short, sweet and heartfelt. So many new adventures await them (and us) in their married life next season!