NCIS: Los Angeles Season Finale Review: Checkmate

Carla Day at .
The previews for the NCIS: Los Angeles finale made it seem like we would be losing a member of the boathouse crew. And, we did, just not as expected.
While "Sans Voir" was not nearly as thrilling as last year's finale, it will certainly have greater ramifications for the team. One similarity between the two endings was that Hetty submitted her resignation. Last year, it didn't stick, will it this time around? Lauren's murder and Callen's loss of control may be the push she needed to leave NCIS for good.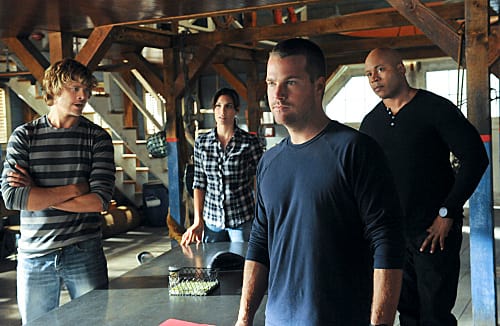 This two-hour episode had a similar problem to the Hawaii Five-0 and NCIS: Los Angeles crossover: each hour consisted of two very different cases that were then tied together with a sliver of story.
In this case, the Chameleon was the ultimate "big bad" in both hours, but his involvement with the Mayfields didn't make much sense. Although, it did feature the desired effect of bringing Callen and crew into the case.
The first hour was pretty boring even for a regular episode. I don't specifically remember Renko from the first season, so his death while unfortunate didn't have any emotional pull.
The second hour picked up the pace with the execution of Lauren Hunter. Her death definitely caused some pain on the team. Even though they didn't like her at first, she was a member of their family. It caused Hetty, the formidable Hetty, to break.
The Chameleon knew all the pieces to play to get what he wanted. He was winning the game, but he underestimated the damage he was causing along the way. He manipulated NCIS into negotiating (doesn't our government have a no negotiation policy?) payment for Atley even though the undercover agent had already been compromised. But he didn't count on Callen going rogue.
Wow! Callen really lost it, didn't he? Will he be sent to Levenworth now? He killed an unarmed man, in front of civilians, a television crew and the police. It doesn't get much worse than that. With Callen's face plastered all over the news, his undercover status is forever compromised.
No one from the team was killed in the finale, but they lost one of their own in Callen. He decided to dole out his own justice and with that he may have lost everything. I'm at a loss for how Callen can get out of this. Sam needs his partner and NCIS would be worse off without him on their team, but his action seems irredeemable.
Do you see a way for Callen to return to the team after executing the Chameleon? What about Hetty, will she return? It will be a long wait until fall to find out what happens next.
Carla Day is a staff writer for TV Fanatic. Follow her on Twitter and on Google+.